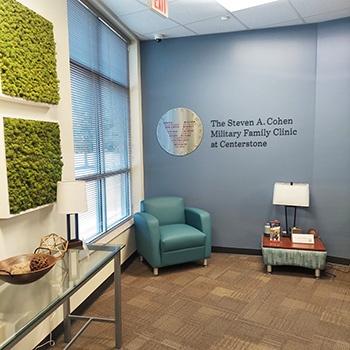 Fort Bragg is one of the world's largest military bases. Housing over 50,000 active duty troops and over 100,000 retirees and family members, Cumberland County is home to a brave population of men and women who have dedicated their lives to keeping America safe.
The price of service
But service, no matter how noble, can sometimes come at a high price. According to national research, incidents of major depression in the military are five times higher than in civilian populations, and PTSD is almost 15 times higher.
A 2021 study found that while over 7,000 soldiers have died in combat in the 20 years since 9/11, over 30,000 active duty and veteran soldiers have died by suicide.
Mental health has become one of the largest threats to modern military service, and resources to help struggling soldiers and their families are in high demand. One valuable resource available to the abundant military population in Cumberland County is the Steven A. Cohen Military Family Clinic at Centerstone.
Founded in 2016 by philanthropist Steven A. Cohen, the father of a United States Marine, the Cohen Veterans Network is a national not-for-profit network of mental health clinics for post-9/11 veterans, active duty service members and their families. Cohen Veterans Network has helped over 30,000 former and current service members and their families through 21 nationwide clinics.
The local clinic treats several mental health challenges for all post-9/11 veterans regardless of rank, discharge status or role while in uniform; all active duty service members with a Tricare referral; and the entire military family from spouses to in-laws. Clients can seek care for depression, anxiety, post-traumatic stress, adjustment issues, anger, grief and loss, family issues, transition challenges, relationship problems and children's behavioral problems. Care can be managed in person or through face-to-face video therapy.
Up & Coming Weekly spoke to Retired Army Major Sharjuan Burgos, Outreach Director for the Steven A. Cohen Military Family Clinic at Centerstone, about Cohen Veterans Network's work within the local military community.
"Nearly everyone who works for our organization is military affiliated," she explained. "In this clinic, we understand the lingo — we have a very high military, cultural competency here. We believe that military families deserve a healthy life, and that's our goal: 'getting families back to better.'"
Burgos served in the military from her high school graduation to her retirement in 2020. With 27 years of service under her belt, she has been a compassionate witness to the sometimes heavy burden such an honor can bestow and feels right at home in this new position.
"It's such an honor," she said, beaming. "I thought I knew everything about the military, but it's a huge transition working this side of it, but it's wonderful to serve the people I know best. I knew I wanted to live a life of purpose and give something back. Taking off that uniform can be hard — I know I felt lost when mine came off."
Stigma of seeking treatment
The stigma surrounding mental health and health care is still quite prevalent in the civilian world, but even more so in the military. Fear of career derailment or possible discharge keeps many soldiers from seeking the help they need. Burgos understands the pressure many in the military face to slap a "Hooah!" on their pain and keep it moving.
"There are so many reasons service members don't seek treatment," she said. "Many military service members struggle to be two people; they hide a lot, put on their cape, shield and boots, and then go home and have to be themselves — it's hard. They put on their super capes, and then they must try to be the things they fear they aren't."

Underserved populations
One underserved population supported by Cohen Veterans Network is female veterans. The unique challenges of female military service pertaining to family, sexual safety and pressure not to appear weak in a male-dominated career field make it even more difficult for these soldiers to seek help. Among veteran clients, women comprise 30% of the group — more than two times the female veteran population in the United States. These numbers are especially important to Burgos. "One of my jobs is to make sure everyone is included, especially female veterans, because they're so often overlooked," she explained.
Military children are also a very high priority to the clinic and its larger organization. "We see kids as young as five years old," Burgos said. "Kids don't know how to express themselves the way we do. We give them the atmosphere and space to help them work through the challenges of having parents in the service. These kids are so resilient — unexpected PCS [permanent change of station,] constantly leaving friends — they're strong but need support too."
Understanding the personal and environmental challenges associated with seeking help, one of Cohen Veterans Network's foundational principles is removing barriers to care. The clinic provides transportation to appointments, on-site childcare and Telehealth appointments for those who'd prefer to get help from the comfort of their own home. Additionally, the clinic works with clients individually to ensure that neither finance nor circumstance supersedes treatment.
Additional resources
Equally important to the clinic is linking clients to resources that will help them and their families with various needs.
Clinic case managers connect clients with additional support such as housing, employment, healthcare, legal support, educational opportunities and other necessary support based on the client's needs. With such a high military population to serve, the clinic endeavors to meet all needs, one case at a time.
"There are just so many resources in the community, and that's one of our goals here," Burgos said. "Our case manager works to get people what they need outside mental health services. We're gap fillers."
Continuity of care
Because the Cohen Veterans Network builds its service around military bases, service members are never far from the care they need. Also, the continuity of care is especially important. The services a person receives at one Cohen Military Family Center will be available at another.
Burgos is proud to continue her service to such a deserving community and is honored to be a part of a growing legacy here in Fayetteville.
"It's an amazing community, an amazing place to work, and the same work is needed everywhere you go."
The Steven A. Cohen Military Family Clinic at Centerstone is located at 3505 Village Dr. in Fayetteville. For more information about The Steven A. Cohen Military Family Clinic at Centerstone's services, visit https://centerstone.org/cohen-military-family-clinic/fayetteville/.