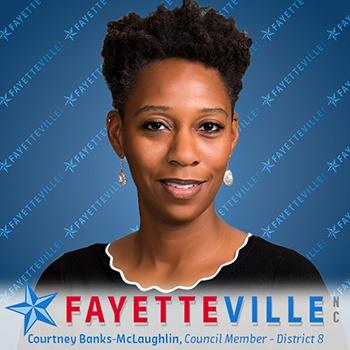 Freshman City Councilwoman Courtney Banks-McLaughlin will return for a second term representing District 8, according to unofficial election returns.
A strong advocate for the homeless, the 37-year-old received 748 votes, or 79% of those cast, according to unofficial returns reported Tuesday by the N.C. State Board of Elections. Downtown businessman Michael Pinkston had 196 votes.
Canvassing of unofficial returns is scheduled for 11 a.m. Aug. 5 by the Cumberland County Board of Elections to certify the results, according to Angie Amaro, interim director of the board.
The mother of five and wife of a former 82nd Airborne Division soldier, Banks-McLaughlin did not respond to requests for comment Tuesday evening.
Banks-McLaughlin has said she opposes the city funding $7.5 million for the proposed $80 million N.C. Civil War & Reconstruction History Center. She also has said she opposes an initiative to restructure the way City Council members are elected, changing from nine single-member districts to five single-member districts and four at-large council members.
Pinkston said he was surprised by Tuesday's election result.
"I spent more than $30,000," said the retired Army veteran. "It's almost inconceivable. I lost 10 pounds walking and meeting people. I sent 17,000 mailers three times. … All the pieces seemed to be falling into place."
Pinkston, 70, said he thinks "the election was very clean."
"We didn't spar. There was no mudslinging, …" he said. "But the election is done, and it is what it is. The voters spoke, and they chose Courtney."
Pinkston has said that crime was an important issue for the city and called for the removal of Police Chief Gina Hawkins, who has announced her plans to retire.
District 8 includes the neighborhoods of Cliffdale Estates, Fairfield, Four Seasons, Hammond Hill on Fort Bragg, Kings Mill, LaGrange, Middle Creek, Parkers Ridge and Westpoint.