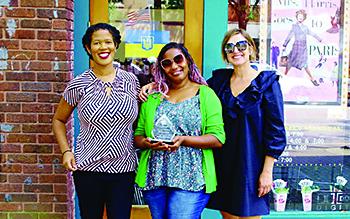 The International Downtown Association recognized Cool Spring Downtown District with the Downtown Achievement Award of Excellence for its resourceful approaches related to their inaugural event, Night Circus, a New Year's Eve Spectacular.
A jury of peer professionals reviewed, deliberated and evaluated all entries in the 2022 Downtown Achievement Awards.
The Award of Excellence acknowledges an excellent response to an urban place management challenge, demonstrating application of industry knowledge and exceeds the jury criteria.
Night Circus was among 23 qualified entries in the category of Marketing, Communications and Events which IDA identifies as one of the seven professional urban place management practice areas. This category features unique organizational approaches and projects in the areas of branding, public relations, marketing strategies and communications plans.
"Being recognized on an international scale for our efforts is truly an honor. We love to bring positive recognition to our deserving city," said Bianca Shoneman of the Cool Spring Downtown District.
The event, in partnership with the city of Fayetteville, was Fayetteville's first self-curated New Year's Eve production in over a decade. Headliners included four national touring acts — All-4-One, Rob Base, C + C Music Factory and Coolio.
Inspired by a novel of the same name, the circus showcased an array of acrobats, aerialists, fire dancers, live art demos and more, with a variety of delicious food to tempt the senses.
To transition from 2021 to 2022, the team hired a local production company, Blashfield Signs, to fabricate an eighteen-foot, multi-colored star dotted with over 150 LED lights. At the stroke of midnight, the star was lifted into the sky, accompanied by a spectacular burst of fireworks, ringing in the New Year.
"Coming out of the height of the COVID-19 pandemic, we knew we wanted something vibrant and exciting for our community as we celebrated surviving a tumultuous year and moving towards thriving in the next", shared Director of Special Projects, Ashanti Bennett.
Cool Spring Downtown District has demonstrated skillful application of urban place management principles with their project Night Circus, said David Downey, IDA President and CEO. "The Night Circus should serve as a framework to all member communities within IDA."
Sponsors for the event included: Piedmont Natural Gas, presenting sponsor and ABC11 as the title media sponsor. Healy Wholesale, the Public Works Commission, the Dogwood Festival, Cumulus Broadcasting, the Fayetteville Area Convention and Visitors Bureau, Beasley Media, City View Magazine and Fayetteville-Cumberland County Arts Council were also corporate donors. Various city departments, especially the Parks and Recreation Department, assisted with event management.
Washington, DC-based IDA is the premier organization for urban place professionals who are shaping and activating dynamic city center districts. The Cool Spring Downtown District is the urban place management organization representing the interests of property owners in Fayetteville.