The Special Forces Charitable Trust is a 501(c)(3) designated charity that provides support programs to the "Quiet Professionals" that put their lives on the line to protect our freedoms, often without any thanks or fanfare from the general public.
The SFCT is a national organization founded in 2010 by Green Berets, who decided that there were several gaps in support for the warriors and families of the Special Forces community. The organization is locally based, with offices in Southern Pines outside the western border of Fort Bragg. The executive director of the SFCT, Jodi Burns, describes the organization's work, "[special forces personnel] are quiet professionals, as you know, they don't really talk about who they are … They take that Quiet Professional title very seriously and almost to their detriment. We're hoping to change that by being their voice, subtly."
She said, "We pride ourselves in being flexible to their needs because nothing is a cookie-cutter lifestyle with these guys. They have to flex with the changing needs of war and that kind of thing as a family. We pride ourselves in flexing with them and providing for those needs as they change."
One of the programs that Burns described that the SFCT operates is "Beyond the Battlefield." "Beyond the Battlefield" is "an operational stress management and suicide prevention platform that offers soldiers an option to anonymously explore and invest in their mental and emotional health. The goal is to provide an option that offers a silently suffering soldier and his family a path towards help, without worrying how it may impact his career."
Burns stated that before the "Beyond the Battlefield" initiative launch, a 3-day weekend retreat for the whole family, "Mettle and Moxie," was their signature program. Burns elaborated on the program: "We bring in experts on a given topic to address the family unit, either before or right after deployment, to ensure that their family resilience is intact and being fed. A soldier does his best work when he knows that his family at home is being taken care of."
One program area of the SFCT that Burns described is geared toward the morale of the soldiers and their families. The SFCT offers events throughout the year, such as Easter Egg Hunts and other family fun events, to help families that may "forget how to celebrate" due to the nature of deployments and a significant family member being out of place during key moments for the family.
One specific area that Burns stated was an area that the SFCT will be growing into is in providing events for the spouses of our soldiers to get together to meet each other, "giving those ladies a chance to gel and get to know each other is super important … it's super important to allow them the environment to cultivate relationships so they feel more empowered and understood."
The SFCT website, www.specialforcescharitabletrust.org, also describes educational grants and scholarships available to "help to keep a family strong and resilient" through education. Specific examples include educational assistance grants for spouses, merit-based scholarships for children, and other personal development programs such as financial management, self-defense, and parenting strategies.
The greater community funds all the work that the Special Forces Charitable Trust does. Without the community's continual support, many beneficial programs would not be possible. On Wednesday, Dec. 14, at the Pinehurst Resort, our community can provide that much-needed support by attending a Celebrity Mix & Mingle.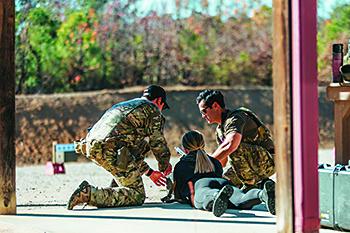 The Mix & Mingle is connected to a larger event, the Annual Celebrity Tactical Challenge held on Fort Bragg at Range 37. During the challenge, a celebrity participant is partnered with two active Special Forces soldiers that train and coach them on the completion of a series of events that are similar to training exercises soldiers might go through. On the morning of Dec. 15, the celebrities will gear up and hit Range 37 in what Burns called a "fun, fast and furious competition to see who is the best." Each star also brings in sponsorships that contribute to the organization's fundraising goals.
Since the tactical challenge is not open to the public, the Mix & Mingle was established for the public to have the opportunity to get involved. Burns describes the event as "educational, as you're getting to rub shoulders with the SF soldiers … we paint a picture of exactly who they are, what they do, why they're important to our nation, and the security and freedoms we all benefit from." She also shared that, "in addition to the SF soldiers, guests also get to meet celebrities and see their interactions with the Green Berets and how they support them. They'll get to enjoy a roast of those celebrities, door prizes, good food, and drink."
The reigning Tactical Challenge Champion, former NFL player Andrew East, Olympic Gold Medal Gymnast Shawn Johnson, and MMA superstar Dan Henderson and Bellator Heavyweight Champion Ryan Bader are scheduled to attend the event. Also scheduled to attend are country music singers and songwriters Jimmie Allen, Michael Ray and Tyler Farr. Crossfit Games veteran Jacob Heppner will be there to meet as well as former Congresswoman Tulsi Gabbard. This list of celebrity attendees is expected to grow in the coming days.
Tickets to attend the event are $100 and available via the SFCT website at www.specialforcescharitabletrust.org/events within the Celebrity Tactical Challenge 2022. The proceeds from the event go to keeping the work of the SFCT moving forward as they serve as a voice of our nation's "Quiet Professionals."