"I came from the small side of the tracks and they told me I wasn't college material," Dr. J. Larry Keen said with a slight grin. Sitting behind the desk he has occupied for 15 years as the President of Fayetteville
Technical Community College, Keen took just a beat before he continued with a story about how that declaration put him in a vocational training class which would help change the course of his life.
He was put into an electronics class by his high school guidance counselor with the idea that learning a trade would be Keen's path to a better future. What Keen gained from the class was an appreciation for the technical aspects of learning and the realization that the "VoTech" kids were smarter and more innovative than many gave them credit for.
"They were talking about stuff you couldn't dream of at that time," Keen said, recalling ideas the students had for technology automation.
Using that inspiration and the strength and perseverance he says he got from his mother, Keen found his own path.
"Opportunities opened up for me and I started taking advantage of those opportunities," Keen said. "I went to college to play football."
College ball took him from Florida to Oklahoma, where he met his future wife, Vicki. He worked on his degree while holding down a full-time job at the B.F. Goodrich tire manufacturing plant in Miami, Oklahoma.
"I went to college to play football and learned there's a lot more to life than football," he said.
Education "became a way of life" for him, Keen said. He would go on to earn his A.A. from Northeastern Oklahoma A&M College, his B.S. from Missouri Southern State College, his M.S. from Pittsburgh State University, and his Ed.D. from Oklahoma State University.
While earning degrees and raising two sons with Vicki, Keen would also serve 21 years in the Army Reserve.
"I learned if you just work hard and do the best you can do, destiny favors those who work hard," Keen said. "Stay focused, continue to do the hard work and understand that things change, be adaptable to the change."
Keen's career includes classroom experience as a faculty member and educational leadership positions at the community college and university levels, as well as being a trainer for military and government programs. He held positions at Oklahoma State University and Northwestern Oklahoma A&M College. He then served as the Vice President of Economic and Workforce Development for the North Carolina
Community College System for five years before opportunity brought him to Fayetteville.
Dr. Marye J. Jeffries was the Chair of the FTCC Board of Trustees when Keen was selected as the President in 2007.
"We had interviewed a good number of candidates," Jeffries remembers. "He was more impressive than any of them. With his experience and background, we thought he was the best candidate. We certainly have not been proven wrong."
Now retired herself, Jeffries served on the Board from 1992 until 2018. She said among many successes Keen oversaw at FTCC, his efforts to "work cooperatively with other colleges— Fayetteville State and Methodist University — and building partnerships with other community colleges in North Carolina" are noteworthy.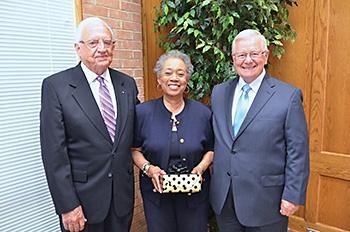 "Fayetteville Tech was always one of the leading community colleges [in the state], but he took it to the next level," Jeffries said. "He was always so knowledgeable about the needs and services a community college can [offer] … We've been recognized, largely because of his leadership and style."
FTCC has been consistently recognized as a Top 10 Military Friendly school, Top Military Friendly Spouse school and Best for Vets school. Under Keen's leadership, FTCC has made strides in focusing service to military members, veterans and their families. Keen led an ongoing collaboration with leaders at Fort Bragg to create a process to grant college credit for military training, and to open the All American Veterans Center on campus.
"One of the things I'm most proud of is what we've done with the U.S. military," Keen said. "We initiated programs years ago, working with the military … to ascribe credit to military training. We provide training to finish their degrees."
When asked what other things he is proud of from his time at FTCC, Keen is not short on replies.
Some are more localized, such as "the success rate of our students has improved over time … college transfer program success rates have improved … the systemization of what we do … our success in the use of financial resources — we get clean audits … our accreditation … how my executive team works together…"
Others have far-reaching impacts on the state and nation, providing a valuable workforce pool in critical fields.
Carolina Cyber Network — FTCC is in partnership with seven other community colleges and three four-year institutions seeking to fill the growing need for cybersecurity personnel through coordinated training programs at each institution.
Fire and Rescue Training Center with the Swiftwater Rescue Training Facility — The on-going development of the state-of-the-art facility will serve the county, region, state and beyond.
Expansion of the Nursing Program and renovation of the Nursing Education and Simulation Center — This expansion will allow FTCC to increase its capacity and provide much needed graduates for the medical community. Keen said the program will now have two start dates per year and hopes to graduate 400 students per year.
One successful effort that touches nearly all fields of study at FTCC was an early commitment to providing online education options. It enabled the college to move swiftly to online services at the beginning of the COVID-19 pandemic in 2020.
"I'm so proud of the way we navigated COVID," Keen said. "It was disastrous for so many colleges."
Keen's team brought together a contingent of people with expertise in different areas to develop the plan and ensure instruction would continue using improved technologies and processes.
"It kept us not only abreast, but ahead of the game," Keen said. "It caused us to be more attentive to how we interact with each other."
While Keen is quick to point to the collaboration of everyone involved, others credit his initiative and guidance.
"It was his leadership that set the foundation, the college was well positioned when COVID hit," said Dr. Mark Sorrells, who was selected to replace Keen when he retires Jan. 1.
Keen is not one to give himself praise for a job well done. His focus remains on providing opportunities for each person seeking education and opportunity.
"It's takes all of us, it takes more than a village to make this happen," he said. "It takes all of us to open doors … to serve those young people that come into our institution."
Rep. John Szoka, who worked with him for ten years while serving in the state legislature, said Keen has made a personal and professional impact on him, as well as the entire community.
"He's been an invaluable asset to our community," Rep. Szoka said. "He's been a resource to the community, to the college, and he's gonna be really missed."