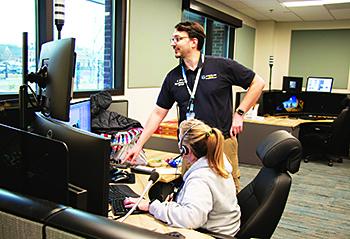 Cumberland County went live Dec. 9 with its new 911 Call Center, located in the County's new Emergency Services Center at 500 Executive Place in Fayetteville.
The transition of 911 telecommunications from its previous location in the Cumberland County Law Enforcement Center downtown was seamless and without interruption, according to a County media release.
"This is an exciting moment for Cumberland County as we transition to this new facility and dramatically enhance the work environment of our Emergency Services staff, and ultimately the level of service our
Emergency Services Department and 9-1-1 Center are able to provide for our citizens in their time of need," said Cumberland County Commissioners Chairwoman Toni Stewart.
"This has been a priority for the Cumberland County Board of Commissioners dating back to Hurricanes Matthew and Florence, and I am thrilled this day has finally arrived."
"This is a historic day for Cumberland County Emergency Services for a number of reasons," said Telecommunications Manager Adam Johnson.
"All our technology was in place and it was a smooth transition with lots of planning and practice to make sure today would kick off smoothly," he said.
In late 2018, the County purchased the building at 500 Executive Place to be renovated and upgraded to serve as the new Emergency Services Center.
The new 911 Call Center has greatly expanded space with live training rooms and room for growth.
The new center features next generation 911 equipment, including a phone system with text-to-911 capability. It also allows for rapid call routing to other 911 centers in the event the facility must be evacuated.
In addition, the audio-visual system has been designed to allow for maximum communication and flexibility, which is integral to emergency management and response.
"We had long outgrown the space we had in the LEC," Johnson said. "We started with humble beginnings to serve the public and rapidly grew the size of our staff and the services we offered the public. This new facility will allow our amazing team of Telecommunicators and support staff to flourish."
The new Cumberland County Emergency Services Center also houses Emergency Management, the Fire Marshal and the County's Emergency Operations Center.
The 911 Communications Center dispatches for the Cumberland County Sheriff's Office, Hope Mills Police Department, Spring Lake Police Department, Cape Fear Valley EMS (county-wide) and all County Fire Departments.
Cumberland County upholds the rigorous and industry-leading standards required to be a triple Accredited Center of Excellence through the International Academies of Emergency Dispatch. Text to 911.
Calling is the best and fastest way to reach 911, but it is possible to receive emergency assistance by text to 911. You may consider text to 911 if:
You are deaf, hard of hearing or have a speech disability.
You are in a situation where it is not safe or possible to speak out loud to 911.
You are having a medical emergency and cannot speak on the phone.
For information about Emergency Services, visit www.cumberlandcountync.gov/emergencyservices.