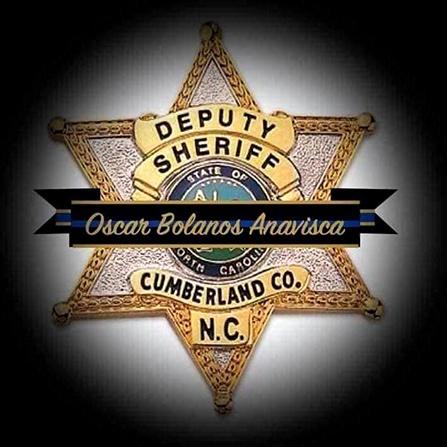 Family and co-workers of Cumberland County sheriff's Deputy Oscar Yovani Bolanos-Anavisca Jr. gathered Dec. 16 afternoon to recall the 23-year-old who was killed earlier in the day after being struck by a vehicle on Gillespie Street.

Nearly 30 members of the deputy's family quietly entered the Sheriff's Assembly Room for a news conference. Most were crying, and they comforted one another.

The family had gathered with members of the Cumberland County Sheriff's Office, Cumberland County staff and other officials.

"I'm standing here with a heavy heart here," Sheriff Ennis Wright said. "Just lost a good deputy, a mother lost a son, sisters and brothers lost a brother. Cousins, nephews. I look at it as a senseless tragedy that could have been prevented. What we have — drinking and driving on these roadways."

Bolanos-Anavisca Jr. died from injuries he received while he and other deputies were investigating a robbery report at the Circle K convenience store at 2990 Gillespie St. just before 3 a.m.

"This young man gave his life for something that he wanted to do," Wright said.

Nicholas Terlizzi, 24, of Linden, has been charged with death by motor vehicle, hit and run, driving while impaired, driving while license revoked, reckless driving to endanger, failing to stop for steady red light and other North Carolina registration violations, according to Lt. Scott Smith of Troop B of the N.C. Highway Patrol.

He is being held at the Cumberland County Detention Center under a $1 million bond, Smith said.

Cumberland County District Attorney Billy West later said that Terlizzi's $1 million bond had been upgraded on Friday to no bond during his first appearance.

West said his office would "get justice in this case.''

"The one promise I can make to his family and to this community," West said, "we will get justice in this case for what was done today. Because we lost an officer that was protecting us and willing to give his life to serve and protect us. And we lost a citizen of this county and this state. And for that, we will get justice."

Bolanos-Anavisca was returning to the convenience store after working with the canine unit when he was hit by a vehicle while crossing Gillespie Street, the sheriff said.

"We had an officer out there doing his job," Wright said. "What he loved to do. What he wanted to do. And his life taken away so quickly. A highly senseless act for someone to get behind the wheel after they had been drinking and decided to drive a vehicle."

Wright recalled that when Bolanos-Anavisca joined the department two other family members also started with the Sheriff's Office.

"And it's something that he always wanted to do is be a deputy. All of them wanted to do — be a sheriff's deputy," the sheriff said. "It really bothers me because this was our week for swearing everyone back in. It really bothers me that this has just happened."

Wright then went into the details of what occurred Friday morning.

"The morning started out, deputies responded to the Circle K at Gillespie and Black & Decker. Once the deputies got there, the suspect was gone. And like we do, being good officers, they started to try to track the suspect down."

The deputies were returning from running a canine track. Bolanos-Anavisca and the other deputies waited until the light was red to cross the roadway, Wright said.

"The subject driving the BMW did not stop at the red-light signal," Wright said.

Bolanos-Anavisca was hit, the Sheriff's Office has said.

Deputies administered lifesaving efforts, a release said. Bolanos-Anavisca was taken by ambulance to Cape Fear Valley Medical Center, where he died from his injuries.
The driver of the vehicle left the scene but was located a short distance away, the Sheriff's Office has said.

"Like I say, it weighs on me'' Wright said. "I take the responsibility for every deputy that's in this Sheriff's Office. I take responsibility for that."

Bolanos-Anavisca joined the Sheriff's Office in November 2020. He previously worked as a school resource officer at Hope Mills Middle School, the Sheriff's Office said in a release.

"On behalf of the Cumberland County Board of Commissioners and all Cumberland County employees, we are devastated by the tragic loss of one of our own – Deputy Oscar Yovani Bolanos-Anavisca Jr.,'' Toni Stewart, chairwoman of the county Board of Commissioners said in a release. "We extend our condolences, our thoughts and our prayers to his family during their time of grief. Deputy Bolanos-Anavisca was part of the Cumberland County government family, and our hearts break for his coworkers in the Cumberland County Sheriff's Office and across our organization, as well as all the lives he touched.

"We appreciate the selfless service he provided to the citizens of Cumberland County over the last two years as he worked to keep his fellow citizens safe."

The N.C. State Bureau of Investigation and N.C. State Highway Patrol are investigating the incident.