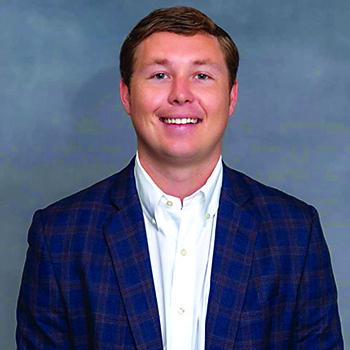 Alex McFadyen, an agent with Coldwell Banker Advantage in Fayetteville, was named RISMedia's inaugural "Rookie of the Year" national award winner in November at the annual conference of the National Association of Realtors.
According to RISMedia, the official news source for residential real estate, hundreds of agents were nominated from throughout the United States. The field was narrowed to 10 finalists. In a ceremony at Rosen Centre in Orlando, Fla., McFadyen, 27, was announced as the honoree by Jennifer Dixson Hoff, president of Colibri Real Estate, sponsor of the award.
"I'm honored and a little surprised," said McFadyen. "It feels good to be recognized for all the hard work of the past year."
McFadyen's win was based on achievements for his clients in 2021. He closed 86 units for $19.7 million in production for the year. In 2022, he is presently at 81 units and $22 million in closed sales.
After winning the honor, McFadyen recognized his mentors, including company CEO Ralph Huff and president of the Sandhills division, Lisa Geddie. He also thanked Alan Tucker, his Fayetteville broker-in-charge, now general manager for the Southern Pines office/director of marketing; Malcolm McFadyen, a long-time, top-producing broker at CBA who is his uncle; and CBA trainer Megan Gerber. Alex McFadyen spoke of growing up among the business. Another uncle, Bill McFadyen, works in commercial real estate.
Alex earned his real estate license in the final semester of his senior year at the University of North Carolina at Wilmington. He believes his degree helped better prepare him for a career in real estate. He graduated with his bachelor's in communications with a minor in business administration in December 2019. One month later, he went to work for Coldwell Banker Advantage in his hometown of Fayetteville, the #1 Coldwell Banker franchise in North America.
When asked the key to his success, he thoughtfully replied, "Always put your clients first, to make sure their interests are met, that they're making a good investment. And grow your relationships."
McFadyen said he jump-started his business by notifying family and friends that he had become a licensed real estate agent and by reaching out to persons who had listed their properties as For Sale By Owner.
He established trust, and the business began steadily growing through referrals.
According to Lisa Geddie, "Being selected as a top 10 finalist is a phenomenal achievement in itself. We are so proud of Alex for being chosen for such an honor as the Rookie of the Year."
Geddie said his success comes down to basics. "Alex has embraced all the tools and training that Coldwell Banker Advantage has to offer," she said. "Most importantly, he shows up every day ready to do what it takes to be successful."