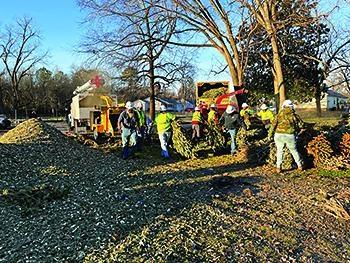 The Annual Grinding of the Greens Christmas tree recycling program, a Fayetteville holiday tradition since 1994, continues in 2023. The annual program is celebrating its 29th year of protecting and enhancing the environment.
Grinding of the Greens encourages Fayetteville residents to recycle their live Christmas trees and, since its beginning, has kept thousands of pounds of recyclable material out of our landfills.
The long-standing partnership between Fayetteville Public Works Commission, Cumberland-Fayetteville Parks & Recreation and Duke Energy Progress turns cut Christmas trees into mulch for the Fayetteville Community Garden and other local parks.
The Cumberland-Fayetteville Parks & Recreation will collect the trees from Fayetteville city residents in a special tree pickup beginning Monday, Jan. 9, 2023. Pickups are separate from yard waste, trash or recycle pickups and city residents should put their trees out for curbside collection by the morning of January 9 . All lights, stands and trimmings should be removed from the tree.
Residents who live outside the city or those who miss the pickup, may drop off trees at the Fayetteville Community Garden, located at the corner of Van Story and Mann Streets, just off Old Wilmington Road, any day by Jan. 20. PWC and Duke Energy Progress volunteers will grind them into mulch at the Grinding of the Greens at the Community Garden on Jan. 21 following a ceremonial start at 8:30 a.m. For more information: www.faypwc.com/grinding-of-the-greens/.