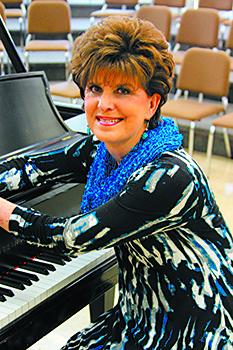 Let there be joyful hearts.
And hymns of joy there were on this day of celebration for the life of Joycelyn "Joy" Walden Cogswell, the retired pianist at her beloved Snyder Memorial Baptist Church on Westmont Drive. No need for tears, she would tell us.
"I am home," Joy Cogswell would have us know. "I am home, with my Lord and savior, where heaven's streets are lined in gold, and with God's mansions with many rooms, and one just for me, just like the Bible told me so."
No need for sad faces, she would tell us. No need for sorrow. Every pew was filled Saturday, Jan. 7 in this church, circa 1949, from the lower sanctuary to the balcony above that looked down on the altar, where for 47 years parishioners found Joy Cogswell at the grand piano every Sunday until her retirement in 2018.
"I believe God gave me a gift to be able to share his love through my hands," Joy Cogswell said in 2018 before playing a final time for the Sunday service. "That's always been my goal: to have people not look at me, but to hear what God is trying to say to them through the music."
She was a presence every Sabbath and dressed in her Sunday best. Her dark hair always coiffed, with every strand in place. She never missed a cue. She never missed a key. She never missed a note. Her fingers flowed gently and fluidly across the keyboard, and the sole of her shoe along the foot pedals, too. She accompanied every soloist, soprano, alto, tenor, baritone and choral voice, from "Amazing Grace" to "How Great Thou Art" to "Holy, Holy, Holy" to "It Is Well With My Soul" to "Great Is Thy Faithfulness" to "There's a Sweet, Sweet Spirit in This Place."
She played for weddings and brought brides down the aisle. She played with such reverence for farewells of congregation members called home. And the church's annual "Singing Christmas Tree" for 40 consecutive years, and at Carnegie Hall in the last year of Joy Cogswell's life.
"What struck me most about her was her genuine humility in spite of the fact that she was so gifted," the Rev. John Cook, the church's retired minister, would say Tuesday, after learning that Joy Cogswell succumbed to her diagnosis of pancreatic cancer. "She was one of the greatest blessings to our congregation in our church's rich history."
Joycelyn "Joy" Walden Cogswell died Monday evening, Jan.2. She was 75.
"I love you,'" Bob Cogswell would say in her final moments. "I love you."
She would leave him, holding her husband's hand.
Sunlight breaking through
"We are here today to celebrate the life and presence of her ministry," Richard Suggs, the church's minister of music, would say. "She was a gifted musician and educator. She played with heart and wanted to usher in the Holy Spirit in a powerful way from her heart's relationship with God."
Joy Cogswell, he would say, had and left a "musically and spiritual fingerprint" in the sanctuary. There was a hush in the congregation as recordings of Joy Cogswell's customized arrangements of "Let All Mortal Flesh Keep Silence," "Jesus Loves Me" and "It Is Well My Soul" played in remembrance of her musical talent.
Her music resonated.
Her legacy was alive.
"She blessed us in so many ways," the Rev. David Hailey, senior pastor at Hayes Barton Baptist Church in Raleigh, would say. Joy Cogswell often played piano at the Wake County church. "Her amazing gift of music had a way of bringing all of us a little closer to God. We are here to worship, and this is what Joy would have wanted. To be here for the glory of God."
Soloist Barbara Lawson later would sing "The Majesty and Glory of Your Name," as Lawson had done so many times before with Joy Cogswell in accompaniment. And a granddaughter would lean on a grandfather's shoulder. Sunlight from an overcast day would break through the church windows as Barbara Lawson sang.
Giles Blankenship would offer "The Lord's Prayer" a cappella, and Bob Haynes would later lead the sanctuary in the church's adopted hymn of "There's a Sweet, Sweet Spirit in This Place" as every man and woman and child held one another's hands.
"It was Bob and Joy's wish that we sing it today," Haynes would say, "like only Snyder can."
Sara Barefoot, who donated a kidney to Joy Cogswell on Dec. 10, 2007, would sing "I Want Jesus to Walk With Me" near the end of the service.
"I don't go a day without thanking God for her," Cogswell once said. "I've always wanted a sister, and I have one now."
Barefoot's presence Saturday was poignant.
Steadfast in her faith
"Things were not always easy for Joy," Suggs would say.
Still, her faith led her along life's way.
"Joy believed that loving others is what really mattered," he would say. "The world lost a gifted musician this week. But she was more than a musician. We will never stop grieving today."
But we can handle our sorrow "by holding one another a little closer. Joy, we thank God for every remembrance."
Joycelyn "Joy" Walden Cogswell was the little girl who grew up on the east bank of the Pearl River in Columbia, Mississippi, and found the love of the piano from age 5 under her musician mother's eye.
"My love of music came naturally to me," Joy Cogswell once said.
She would attend Florida State University and earn her degree in music education with a piano principal degree and also find the love of her in Bob Cogswell, a young law school student. They married Sept. 19, 1970, and found Fayetteville and Snyder Memorial Baptist Church in 1971, where Joy Cogswell would direct the youth choir and become the pianist in 1974.
Over the ensuring 47 years, she would leave an indelible mark teaching music to not only church youths and children but to aspiring piano students throughout the community, including at Methodist University and Fayetteville Academy.
"Joy lived a life of gratitude," the Rev. Hailey would say. "She was grateful for her friends, and if you were Joy's friend, she loved you. Joy was thankful to God for all her friends she ever met along her way. Joy had an amazing life. She never stopped being grateful and never lost sight of God's amazing grace."
Epilogue
No need for tears, Joy Cogswell would have wanted us to know, in this sanctuary where she told so many for almost a half century there was a "sweet, sweet spirit in this place," where Joy Cogswell loved and counted her blessings all of her days. No need for sad or solemn faces. No need for sorrow.
"I am home," Joy Cogswell would have us know. "I am home, with my Lord and savior, where heaven's streets are lined in gold, and with God's mansions with many rooms, and one just for me, just like the Bible told me so. I have touched the face of God. And it is glorious."