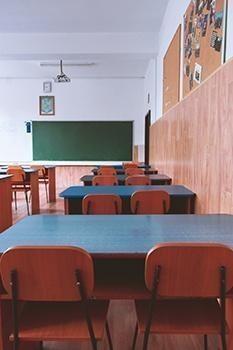 The Cumberland County Board of Education voted 6-3 on Jan. 10 to end uniform dress codes at three schools.
Uniforms will not be required at Howard Hall Elementary, Pine Forest Middle and Sherwood Park Elementary in the 2023-24 school term.
School board members who voted to drop the policy were Greg West, Donna Vann, Alicia Chisolm, Susan Williams, Jacquelyn Brown and Nathan Warfel.
Carrie Sutton, Judy Musgrave and Deanna Jones voted to keep the dress code policy in place at the schools.
Sutton, a staunch supporter of school uniforms, clasped her hands and dropped her head in silent disappointment after the vote.
The principals of the three schools had said they were in favor of uniforms, but they also spoke of respecting the wishes of their respective stakeholders.
At least 70% or more of the stakeholders at each school had voted to stop requiring uniforms.
Earlier during the meeting, Sutton had asked that the agenda item on the uniforms be pulled from consensus vote for further discussion.
The board approved her request.
"I'll just review what I said in committee last week," Sutton said. "Uniforms work. It's shown in private charters, church schools that uniforms are for a reason. Especially in the early grades — elementary and middle schools — for attention span, concentration. And then the social stigma is removed from
one student looking at a 'have student' and a student looking at a not-having student.
"Here we are again. I'm asking all the board to consider how we are to support every one of our children and that's to learn. … I'm asking that we not approve this."
The principals were then asked to come forward to give their views on the school uniform issue.
Sutton said she had heard last week that the principals were in agreement to keep uniforms. "Has anything changed? I'm open to hearing it," she said.
Jennifer Jasinski-McAdoo, the principal at Sherwood Park Elementary, said what she is in agreement with is what's in the best interests of her students and stakeholders.
"I thought it was my due diligence to follow through if (we were) going forth with this survey because it's been at least a 10-year process since this happened before," she said. "I think it's my duty as principal to listen to what the stakeholders are saying. According to these surveys and the survey results, that's what the stakeholders are asking for."
Jasinski-McAdoo said she has seen research from both sides of the argument: "That they do work, and they don't. There is no proof to show that it does increase academics or (improve) behavior …"
Cornelius Felder said coming in as the new principal at Pine Forest Middle School, they were required to have the school uniform dress code. He was going to reinstate the dress code for the next school year but said he received a lot of concerns from the parents.
Those, he added, included financial worries and the fact that uniform inventory was not in stock. Some parents wanted to do a survey.
Whatever the survey determined, Felder said, "I was going to support the stakeholders of what it said. I was going to respect the process."
Erica Fenner, the principal at Howard Hall Elementary, said she had a lot of parents ask about conducting a survey on the issues, too.
"We are a Title one (low-income) school. I am in favor of school uniforms," Fenner said. "But I respect the vote of the majority of our stakeholders."
West then made the motion to consider the schools' requests to drop their uniform policies.
Warfel seconded the motion before the board as a whole gave it final approval.