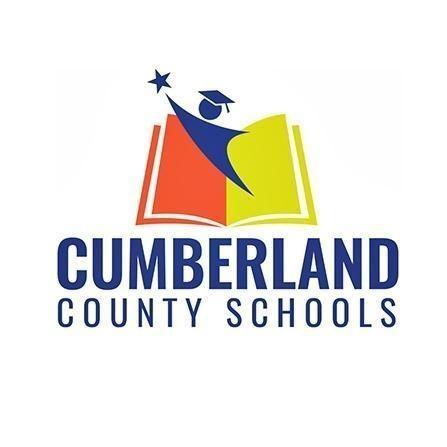 Cumberland Family Academy, the district's family engagement outreach arm, is kicking off the new year with a family fun night.
Cumberland County Schools' elementary school students, along with their families, are invited to attend "Family Reading Fun" with Nationally Renowned Children's Author Dr. Kimberly Johnson, on Thursday, Jan. 19 at William H. Owen Elementary School. The school is located at 4533 Raeford Road in Fayetteville.
Families can arrive at 5 p.m. for a pizza party and will have the opportunity to mingle and take photos with local school mascots. The reading session begins at 6 p.m.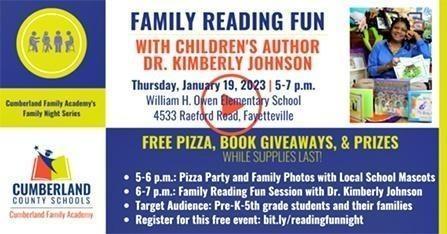 Dr. Johnson's high-energy, interactive "Family Reading Fun" session will provide families with tips and suggestions on making reading fun while helping students become better readers. Families will leave with strategies to implement at home to help encourage a love of reading.
Pizza, books and other giveaways will be provided while supplies last. Space is limited, so families are encouraged to register today: https://bit.ly/readingfunnight.
A children's author and educator, Dr. Johnson is passionate about education and literacy. Originally from Shelby, N.C., Dr. Johnson is currently a professor at Clemson University and has authored 18 children's books. She visits schools throughout the U.S. speaking to children and adults about literacy and writing. She grew up in a household with grandparents who could not read or write, yet they encouraged her to be the best person she could be! Now, she has committed her life's journey to "empowering our children to know that they can succeed, no matter what their circumstances are." Learn more about Dr. Johnson here.

About Cumberland Family Academy
Cumberland Family Academy (CFA) provides FREE workshops and educational events for the families of Cumberland County Schools (CCS). As part of its strategic plan, CCS launched CFA during the 2020-21 school year. From research, we understand that students achieve more when families are involved in their education. The purpose of the CFA program is to provide families with tools to support the success of their children's education and to bring schools, parents/guardians, families, and community organizations together as equal partners. For more information on CFA, visit www.familyacademy.ccs.k12.nc.us.