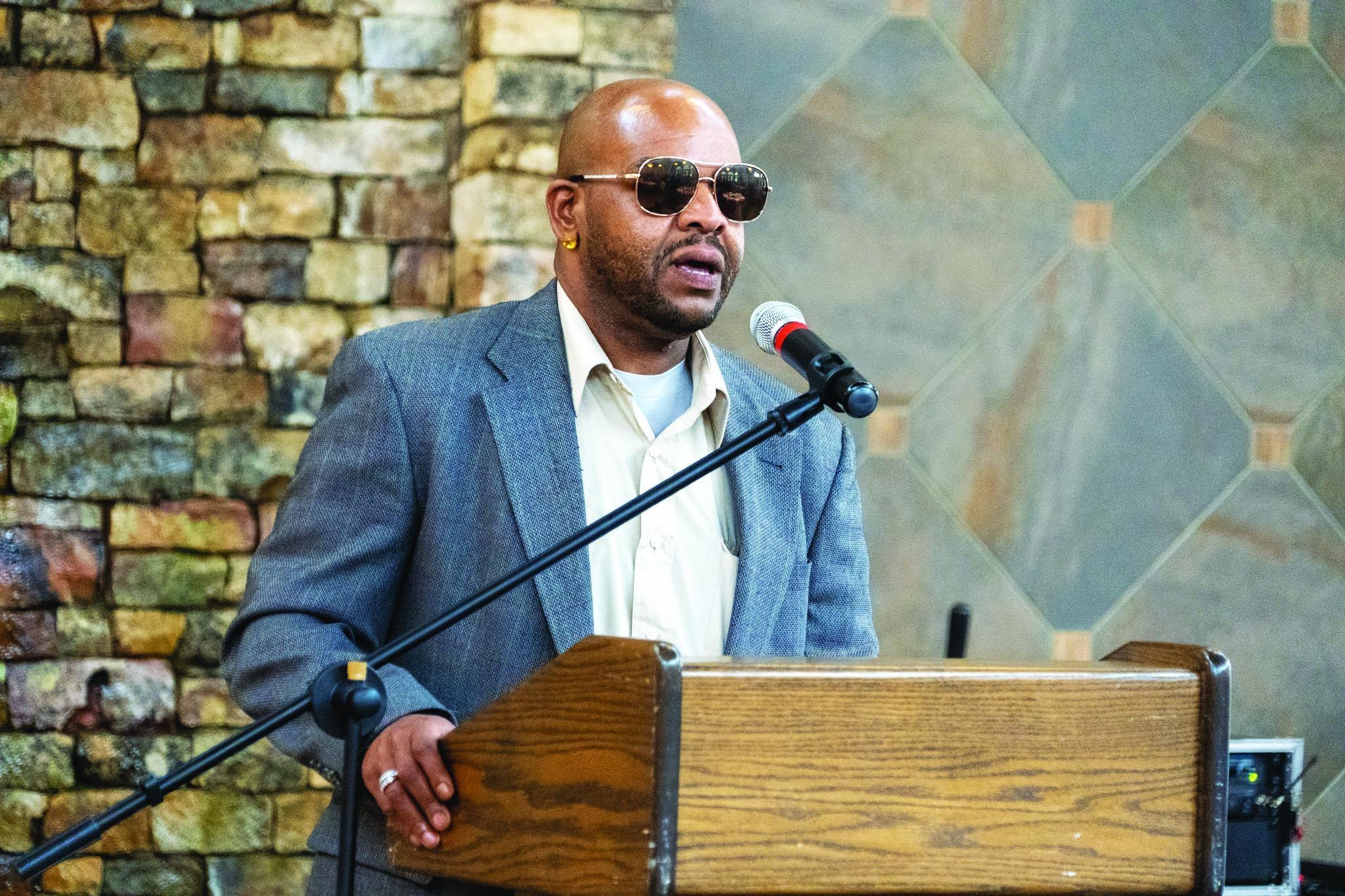 The Fayetteville-Cumberland Human Relations Department, in partnership with the Vision Resource Center hosted a Dining & Dialogue event at Cape Fear Botanical Garden on Jan. 25 to raise awareness about challenges encountered by people that are blind or visually impaired as they navigate the community.
With more the 110 people in attendance, the VRC emphasized the importance of the topic by having participants without visual impairment wear blindfolds or simulation glasses during lunch.
The VRC's Executive Director Terri Thomas said, "As people are eating, they will get an idea of what it's like to be blind or visually impaired."
Thomas wants more events like this to raise awareness of the challenges and support needed for people experiencing life with limited to no sight to live more independently.
"Hopefully, people leave differently than the way they came, wanting to advocate for people with any disability not just visual impairment," she said. "I want people to think, 'what can I do to be more inclusive.'"
Dining & Dialogue is a lunch-and-learn style event where community members can learn from each other about different identities and cultures by having crucial conversations on difficult issues. Diversity, Equity & Inclusion Director Yamile Nazar, who leads the Human Relations Department, said raising consciousness of the experience of others is integral to the mission of the department and Fayetteville-Cumberland Human Relations Commission.
Nazar said, "Our number one focus is heightening people's awareness around experiences that are not like theirs. Unless we are having the experience, we just don't know what we don't know."
She continued, "So, [with] heightening awareness comes sensitivity to someone else's plight."
At the tables, the dialogues were led by community members who are living with visual impairments. Waleed Nuridin and Latasha Smith receive VRC services. They told their stories which included overcoming depression and learning how to re-enter their career.
Other speakers talked about the lack of chirping sidewalk crossings and audible elevators, things that could help them lead more independent lives. Thomas presented the work of the VRC to the Human Relations Commission leading to the Dining & Dialogue on sight limitations.
Semone Pemberton, chairwomen of the Human Relations Commission, is passionate about having conversations that raise awareness of community needs to city and county leaders. Additionally, they encourage community members to learn how to enhance interactions with one another.
"The commission's role is to facilitate dialogue and bring people together to make impactful change," said Pemberton.
The VRC's mission is to enhance the lives of adults and children living in the Cape Fear Region who are blind or visually impaired. As a part of that mission, the Dining & Dialogue was an impactful and educational experience for those not experiencing life without or with limited sight.
"I hope the event urged people to think beyond themselves because that will help make our community and the world a better place," said Thomas.
Editor's note: There are a number of ways to help support the Vision Resource Center through donations of time or money. For more information visit www.visionresourcecentercc.org/ or call 910-483-2719.