Angelo Aldoph, a seventh grader at Max Abbott Middle School, is the winner of the Cumberland County Schools' Championship Spelling Bee. Saint Patrick Catholic School seventh grader Emily Staneata won second place honors.
Julia Lim, a fifth grader at Cumberland Academy K-5 Virtual School, was the third place winner. Fifty-nine students competed in the Preliminary Level II Spelling Bees, which concluded Feb. 10 with the championship competition at the Educational Resource Center. Parents, teachers, fellow students and staff eagerly watched the group of participants one-by-one step up to the microphone and demonstrate their 'spelling power' to the crowd.
Nine students competed in the Championship Spelling Bee after winning their school's level I and district's level II competitions. Angelo correctly spelled "crustaceans" to capture the win. Courtesy of CCS, Angelo will go on to compete in the 2023 Scripps National Spelling Bee this summer in the Washington, D.C. area. The semifinal and final competitions will take place on May 31 and June 1, respectively, and will be televised on the ION and Bounce networks.
In addition to qualifying for the national competition, Angelo won the following prizes:
The Samuel Louis Sugarman Award, a 2023 United States Mint Proof Set provided by Jay Sugarman, chairman and CEO of iStar Financial, in honor of his father
The Britannica Online Premium, a one-year subscription for the premier online resource from Encyclopedia Britannica
The Merriam-Webster Unabridged Online, a one-year subscription for the official word source for all levels of competition for the Scripps National Spelling Bee.
At the start of the competition, students were welcomed and encouraged to "B-E-G-I-N" spelling by School Board Chairwoman Deanna Jones. The competition, which involved nine public and private local school spellers, lasted 13 rounds. CCS' Psychological Services Coordinator Lisa Craver served as the pronouncer for each of the 10 spelling bees during the competition.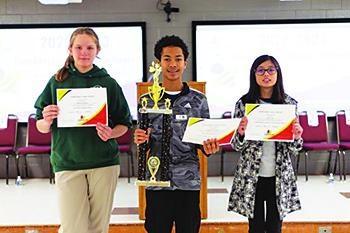 The district and The Fayetteville Observer provided judges for each Bee. The Fayetteville Observer's Opinion Editor Myron Pitts; Food, Dining and Business Reporter Taylor Shook; and Production Manager Kiffany Cain were tasked with tracking every word and verifying spelling accuracy for the Championship Bee.
At the close of the competition, CCS Chief Academic Officer Dr. Stacey Wilson-Norman commended the students on their resilience to keep going no matter what!
"Today's competition is a demonstration of our students' determination and hard work," said Superintendent Dr. Marvin Connelly, Jr. "I know we will see these spellers in the future as our leaders!"