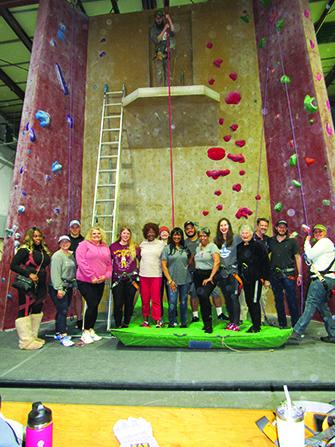 As part of the Cape Fear Valley Health System, downtown Fayetteville's Medical Arts Center is best-known as Highsmith Rainey's physical therapy department.
However, on Mar. 11, it'll be remembered as the first building in this area to host the United Way of Cumberland County's inaugural Over the Edge fundraiser, in which participants rappel one of its 50-foot-walls.
"This is the first year that United Way has had this event," said United Way of Cumberland County Fundraiser Chairwoman Carolyn Justice-Hinson. And it's the only fundraiser of "its kind in Fayetteville [and] Cumberland County."
Over the Edge is a peer-to-peer fundraiser where participants raise $1,000 to rappel or have somebody else rappel the Medical Arts Center.
The United Way of Cumberland County intends to raise $140,000 during the event "to improve the quality of lives in Cumberland County by addressing basic human needs," per UWCC's mission statement.
Historically, United Way has raised money via workplace campaigns and other types of donations. Over the Edge is a new fundraising avenue for the organization.
"United Way is a term that people have probably heard their entire life, but not everybody may understand [it]," Justice-Hinson said. "[United Way] is an umbrella program that raises money to support community programs."
In fact, United Way is currently supporting 14 programs in Fayetteville and Cumberland County with partner agencies that impact 300,000 people a year, she added.
Donor contributions go to making sure children (K-12) succeed in school; supporting adult financial self-sufficiency and employment preparedness; access to welfare and awareness education; and providing emergency food, shelter and other needs.
United Way has served Fayetteville and Cumberland County for approximately 80 years.
"While United Way is a national brand, every United Way is local to their own community," Justice-Hinson said. "We have our own board, and we're funding programs and addressing issues that matter to our community."
Even though it may be too late to enter the fundraiser, it's still worth the trip downtown to see 50 people and local celebrities such as local officials and entrepreneurs Fizzy Friends and 2022 NC Governors Volunteer Medallion Award winner Stacey Buckner go over the edge.
You can donate money to the UWCC during the event. If you can't make it, you can donate online at www.unitedway-cc.networkforgood.com.
"People might say [the Medical Arts Center] isn't a very tall building," Justice-Hinson said. "It's tall for us, because it's our first time, and it's been a challenge finding a building that meets the criteria to be able to do this."
Remember that some businesses are raising money for the bosses to rappel the Medical Arts Center. You can learn more about the Over the Edge fundraiser at unitedway-cc.org/over-the-edge-fundraiser.
"We are so grateful to Cape Fear Valley, who owns the Medical Arts Building ... and, we're happy they've partnered with us and allowed us to use the building for this event," Justice-Hinson said
Aside from rappelling, there will be cornhole and food and vendors' tents, not to mention all of the interesting restaurants and entertainment venues that downtown Fayetteville has to offer within walking distance of the Medical Arts Center.
"[The UWCC] thought this was the perfect fit for Fayetteville [and] Cumberland County," Justice-Hinson said. "You know, being the home of Fort Bragg, this [fundraiser] is adventurous [and] tied" in to the area's airborne tradition.
Over the Edge is a Canadian "adventure experience company with a passion for positive impact" that's been operating in the United States since 2008.
"Over the Edge continues its commitment to help non-profits and charities meet their fundraising goals with our unique adventure experience," said Over the Edge founder and CEO Paul Griffith.
Over the Edge "is one of these events [that] when you look at who's participating, who it's supporting, it's another example of how Fayetteville comes together for a great cause," Justice-Hinson said
The Medical Arts Center is located on the corner at 101 Robeson Street, directly from Highsmith Rainey Hospital and across Hay Street from the Airborne and Special Operations Museum.
Over the Edge begins at 9 a.m. and lasts until 4 p.m. Ten to 15 people will rappel per hour starting at 10 a.m.
Some of the participants who are signed up for the Over the Edge challenge took part in practice rappel sessions at Triangle Rock Club on Raeford Road. (Photo by Linda McAlister)