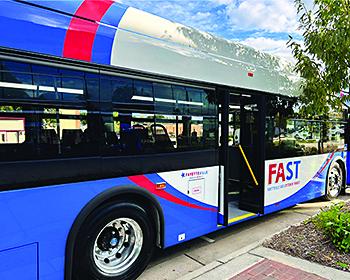 Fayetteville Area System of Transit (FAST) will reinstate collection of fares for all fixed route and paratransit services on July 1 after suspending collecting fares in response to the COVID-19 pandemic in March 2020.
"FAST was among many transit agencies in the nation to suspend fares in order to limit unnecessary interactions between riders and operators," said FAST Director Tyffany Neal.
Over the past three years, FAST worked tirelessly to keep both employees and passengers safe by implementing new safety measures and procedures such as rear door boarding and sanitizing vehicles and facilities daily.
FAST will begin selling passes on June 1. Riders can purchase passes at the Transit Center located at 505 Franklin Street. Some Carlie C's locations will also sell FAST passes, however, options are limited to 5-Day, 5-Day Discount, 30-Day, 30-Day Discount, 30-Day Youth and Summer Fun Passes. The four Carlie C's locations are Eutaw, Bordeaux, Reilly Road and Cedar Creek.
Riders should have their fares prepared prior to boarding the bus and provide exact change as operators cannot handle cash and make change. City of Fayetteville employees can continue to ride fare free by displaying their City identification badge.
FAST is encouraging staff and customers to wear masks in FAST facilities and vehicles, however it is not mandatory.
Providing excellent service and maintaining the health and safety of our staff, operators and passengers continue to be our priorities as FAST strives to be a choice mode of transportation, Neal said.
Visit www.RideFAST.net for more information. Download the free TransLoc Rider app to see buses moving in real-time, see the location and heading of buses in their vicinity and get accurate arrival predictions.