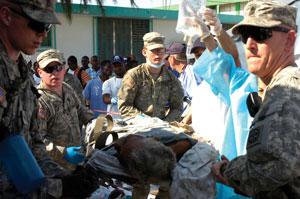 Is there any better feeling than to be able to lend a hand to someone who really needs it — to change a life (or country) for the better because it is the right thing to do? The soldiers of the 82nd's 2nd Brigade Combat Team know the answer to that question. They have been providing relief to Haiti since a 7.0 earthquake on Jan. 12 reduced a portion of the country to a pile of rubble, affecting millions of people and crippling the Haitian government.
The first paratroopers stepped off the plane on Jan. 15 and got right to work "We've done a little bit of everything since we got there," said 2BCT Public Affairs Officer Capt. Christopher Brautigam. "We started off just handing out food and water and we came in as fast as we possibly could. We treated a lot of people for injuries. If there was anyone still in the rubble, we were going to help as best we could and help the search and rescue teams find those people and get them out."
Used to taking the lead and doing the heavy lifting in executing their missions, the paratroopers have played a big part in working with other non-governmental agencies to deliver the goods and services that will help in putting the country back together.
"We didn't actually do the search and rescue. Our goal was to secure areas and provide logistical support for the search and rescue teams because they are really the experts and they've done this all over the world," said Brautigam. "We provided security and gave them room to work and allowed them to go in. In one case though, the White Falcons heard some rumors and had time to get a search and rescue team there and they were actually able to dig through some rubble and help save a guy. It was a really great thing."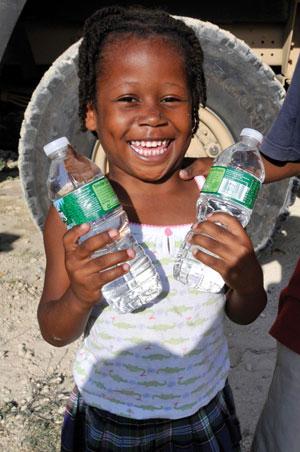 While the 82nd trains hard to be ready for most any mission, it has been a while since they've provided disaster relief.
"Most of the brigade are combat veterans and this is definitely different from what we have been doing — but for the most part we have been able to apply the lessons learned, the things that we did while we were in Iraq and Afghanistan, and some of the help that we provided to the people of Iraq and Afghanistan and we have been able to apply that here," said Brautigam. "We were able to use a lot of those lessons in how to help people and how to organize and how to run the logistics of these things to get the most help to the Haitian people as quick as possible. The best thing we were able to provide was the ability to solve problems and to get there quickly with a lot of soldiers and equipment. We were able to get there fast and get right to work. We just go and say 'Okay, we need to help people' and everybody fi gures it out with little guidance. Every one of the paratroopers is glad to be helping out."
Add that All American can-do spirit to the tenacity and scrappiness of the Haitian people and big changes have come quickly to the island, although there is still much to do. When the hard work of soldiers is met with hard work and cooperation from the people, lives are changed. Brautigam was impressed by the Haitians.
"They've shown their resilience in so many ways. A few days after the earthquake people — on their own, without any help — were starting to rebuild their homes, or if their home was destroyed they were starting to tear down the homes to see what they could sell for scrap and to see what they could salvage and begin trying to start over. There are countless people who went into their homes, got their things and basically said 'Okay, I used to run an Internet cafe — that is gone, but I have some of my equipment so I am going to go to one of the camps and set up Internet at one of these camps and get my business restarted till I can get a new house.' There were guys who were barbers before — they grabbed a couple of their sets of clippers that survived the earthquake and went out and started cutting hair again."
According to Brautigam, what happened to the Haitian government was the equivalent of our White House, pentagon and five or six of the big federal buildings in Washington, D.C., falling. That would be devastating for any country.
"They are working as best they can out of the facilities they have. We are really working to be a conduit between the government of Haiti, the U.N. troops and the non-governmental organizations ... bring it all together, get people to meet face to face, find out where the problems are and to find the best solutions to the problems because at the end of the day, they know that our presence is temporary. NGO's, (non-government agencies) they are equipped to do this. They are humanitarian aid on the long term and they are positioned and structured better to do that than we are. So we are doing our best to set them up for success — find those places that needed the most help and let them provide that help."
As conditions improve and plans for redeployment draw closer, the 82nd will once again leave its mark on the pages of history and bring home tales of glory to share with the families.
"They (the soldiers) have seen a lot of devastation and to some extent they will keep some of these memories, but I think for the most part they are going to take back the positive experience we are the 82nd — we were there first and we were able to help in doing something very positive, not only on behalf of ourselves, but as ambassadors for our entire nation," said Brautigam. "They'll take that back just like every one of us who have been to Afghanistan and Iraq and we will tell our grand kids we were able to go to Haiti when they had this catastrophe and we were able to help — that is who we are and how we train."