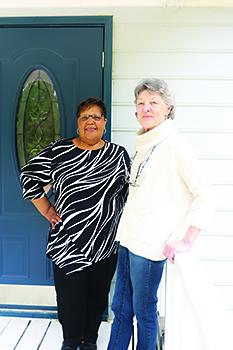 The Spring Lake Family Support Services, also known as "The Kinsey House", is a nonprofit organization located in the heart of Spring Lake. It's a support services organization with the mission to reach families, restore community, renew minds & rise strong together.
They are hosting their first ever Community Health Fair, partnering with Goshen Medical Center, as well as other services and vendors to serve the community from 10 a.m. to 4 p.m., Saturday June 3. The event is located at First Presbyterian Church, right up the street from The Kinsey House. Attendees will be able to get medical screenings, information on dental health and pediatrics, as well as knowledge on pharmacies and internal medicine.
There will be dental consultants, legal aid advisors, breast exams, and COVID testing available. Several health-related needs can be addressed at the upcoming health fair, giving the community a personal experience with health experts. Health assessments will be available to the homeless for $1. The cost will be on a sliding scale for others.
Up & Coming Weekly had a chance to talk with CEO and Founder Debora Hudson, as well as Office Manager Sandy Woltmann, to discuss what their mission is and how much this event means to the community.
It's no secret that access to affordable healthcare is a nationwide issue. When speaking with them, they said they've noticed that a lot of people in general don't go to the doctor. A lot of people do not have insurance, and some people who have insurance don't go, because they can't afford the co-pays.
Hudson says, "I think a mobile unit set up with other vendors, food trucks, and music makes it more comfortable for people to come and do what they need to do to be seen. It opens the doors for them to be a little bit more personable with the medical team that's coming. The Rape Crisis Center will be here. Medicare, Legal Aid, Action Pathways, the foster care division from DSS, Blue Cross Blue Shield, CPR demonstrations. All these things relate to the health of the community."
The Kinsey House was created out of a vision to meet needs that have been overlooked for far too long. The nonprofit managers pride themselves on looking for and intentionally seeking out ways to provide these needs to the community.
Spring Lake is separate from Fayetteville, making the SLFSS the only "homeless shelter" or organization that can provide support services for those in need, in the city of Spring Lake.
"We thrive on mental health, physical health, emotional health, just meeting people where they are," says Hudson. "We try our best to make sure that the community is in tune and connected to all services available to them, because people don't know a lot of the services that are out there. So, we just want to educate them of what's out there that will benefit them."
The Kinsey House itself, located at 126 N 1st Street in Spring Lake, is currently under renovation, but will feature a computer lab, laundry services, and hygiene care for the homeless and those in need.
Other programs offered through the nonprofit include: Hearts of H.O.P.E for domestic violence victims, A Path 4Word for mentoring and tutoring, and Barbara's Closet of Blessings for those in need of clothes in the community.
Their most recent event, which they plan to do every 3 to 4 months, is called Laundry Love Day. Gone are the days where you can go to a laundromat and do loads for quarters. Loads can cost as much as $4.50 each, at laundromats today, costing a family of four nearly $50 a trip. With the start of this event, the SLFSS was able to support several families. It was a need they didn't know was so widespread in the community.
"We go to our local laundromat, and we load up all the machines and the dryers so people can use them," says Hudson. "We bring laundry detergent and people can do their laundry for free within that time frame. We also serve coffee and water along with snacks and for people in line. And then we just talk to them, to see what their needs are, tell them what we offer and how we want to help the community."
It's clear to see that the Spring Lake Family Support Services has the best interest of people in the community at heart. They serve as an essential support system to many in need in Spring Lake through the variety of services offered.
Although they have several opportunities scheduled for the June event, Hudson says they hope to have another Health Fair in September on a much larger scale. The goal is to accommodate even more people.
They also plan to have another Laundry Love Day as soon as they can get it organized.
In the meantime, be sure not to miss their first Community Health Fair on June 3 from 10 a.m. to 4 p.m. at the First Presbyterian Church.
The Rain Date is scheduled for June 10 in case of inclement weather.
For more information on how you can help and donate to the The Kinsey House, visit www.thekinseyhouse.org or call 910-584-7160. They can also be reached via email at springlakefamilyservice@gmail.com.