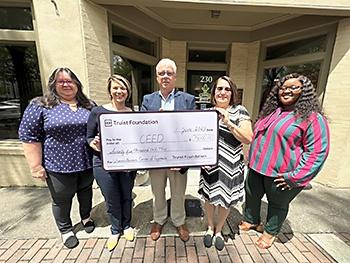 The Center for Economic Empowerment & Development received a $75,000 grant from Truist Foundation to be used to assist in providing a level playing field for women and the under served business owners in our community who disproportionately face barriers.
The grant will help CEED continue its work in providing comprehensive training and counseling in small business to help clients start, sustain and grow their own businesses, especially those who are socially and economically disadvantaged.
CEED's mission has always been to promote the growth, productiveness and well-being of entrepreneurs through counseling, education, information and advocacy programs. They are dedicated to helping entrepreneurs find their own strength to sucCEED.
In 2022, CEED served 1,905 clients of which approximately 87% were women, 83% were minority and 65% had a military affiliation.
CEED was started by a group of women and then led by Sylvia Ray who wanted to ensure that women had an equitable chance to economically support themselves and their families. Its programs are designed to support that vision and mission.
"We are so excited to have the Truist Foundation as an equity partner! With their investment, CEED will be kicking off entrepreneurial cohorts starting this fall, which will help us to continue to lay the foundation and increase small business owner competency through training," says Suzy Hrabovsky, Executive Director of CEED. "We are looking to expand our financial literacy course offerings throughout the counties we serve, which will increase self-sustaining infrastructures through education. By increasing knowledge and technical assistance, we can increase the sustainability of businesses and their success using loan capital."
"Education goes hand-in-hand with a business owners' vision of success and the drive to start and grow a business," said Chris Isley, Truist Regional President of Eastern North Carolina. "We are excited to be part of this program that helps under served business owners overcome systemic barriers and contribute to their communities in meaningful ways. This work is at the heart of Truist's purpose of inspiring and building better lives and communities."
The Center for Economic Empowerment & Development is a micro-lender with a Women's Business Center Program providing in-house 1:1 counseling, technical assistance, networking/mentorship opportunities, and access to Capital. CEED develops community-led solutions to create an ecosystem where our business owners can be successful. CEED is an advocate for their success throughout the life cycle of their business from developing the idea, creating a sustainable plan, and providing the resources and capital for their success.
The Truist Foundation is committed to Truist Financial Corporation's purpose to inspire and build better lives and communities. Established in 2020, the foundation makes strategic investments in nonprofit organizations to help ensure the communities it serves have more opportunities for a better quality of life. Grants and activities focus on building career pathways to economic mobility and strengthening small businesses.