Marksmen tab Ryan Cruthers as Director of Hockey Operations, Head Coach
The Fayetteville Marksmen, proud members of the Southern Professional Hockey League, have signed Ryan Cruthers as the director of hockey operations and seventh head coach in team history.
Cruthers, 39, from Farmingdale, New York, served last season as the assistant coach for the USHL's Sioux Falls Stampede.
"I'm excited to be a member of this new Marksmen family and take it to new heights," said Cruthers.
Cruthers's coaching experience has included multiple stops at the top levels of American junior hockey. He was the head coach and assistant general manager of the USHL's Chicago Steel during the 2017-18 season and the following year was tabbed as bench boss for the NAHL's Corpus Christi Ice Rays.
Most recently, Cruthers helped engineer a USPHL-Premier expansion franchise with the Columbia Infantry before undertaking the assistant coach's post in Sioux Falls.
"We could not be happier for Ryan and his family," said Stampede general manager Tony Gasparini. "He had an instrumental part toward our success both on and off the ice, in particular, working with two of our defensemen who were picked last week in Nashville at the NHL Draft."
From 2015-22, Cruthers was one of the architects of the Charlotte Rush championship teams in the USPHL. The Rush won their first of two USPHL-Elite national championships under Cruthers in 2017, just his second season with the organization. In 2021, both the Charlotte Elite and Premier divisions captured national titles while he served as general manager and Premier head coach.
For two games during the 2017-18 season he filled-in as the interim head coach for the Marksmen and earned a record of 1-0-1.
"Ryan is going to put us in a position to have a successful season again this year and is going to drive us in the right direction on and off the ice," said Marksmen owner and CEO Chuck Norris.
Prior to his coaching career, Cruthers was a force on the wing with eight seasons of ECHL experience. In 429 ECHL games and 32 AHL games, he logged four separate 20-goal seasons and led the 2009-10 Reading Royals in points (71).
Consistently touted as a leader, Cruthers was captain of the Royals from 2010-12 and then donned the "C" for the Orlando Solar Bears in 2012-13. He was the captain and first rostered player in Solar Bears history.
"I think your playing career – as a coach – helps you relate to what the players and team are going through at different times… success is built on relationships, and I've already started building these relationships with our players," said Cruthers.
A standout at Robert Morris University, Cruthers was a four-year NCAA Division-I letterwinner. He captained the Colonials in his senior season, a year where he was also a preliminary nominee for the Hobey Baker Award as the NCAA's top men's college hockey player. Prior to starring with R.M.U., Cruthers played his first two college seasons as the United States Military Academy at West Point.
"I am passionate about the military and what the Marksmen stand for and we're founded from," said Cruthers.
"[Cruthers] is not a coach looking for a chance, he's proven how valuable he is already at the NCAA Division-I level, the ECHL, and the top two tiers of North American junior hockey. That type of experience is hard to find in the SPHL, but we've been able to capture it with him," said Norris.
Cruthers will lead the Marksmen during opening weekend on Friday, Oct. 20 at Roanoke and Saturday, Oct. 21 at home vs. Roanoke.
"Our fans will have a team they can relate to, a daily commitment to excellence both on the ice and in the community," said Cruthers. "My goal is the entire Fayetteville community can feel the positive direction in which we are heading."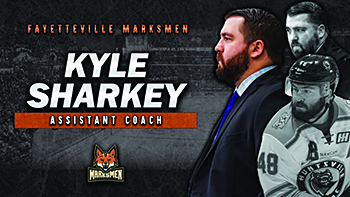 Marksmen sign two-time SPHL Champion Kyle Sharkey as Assistant Coach
The Fayetteville Marksmen also announced they have agreed to terms with Kyle Sharkey as assistant coach for the 2023-24 season.
Sharkey, 30, a native of Moore, Oklahoma, served as an assistant coach with NAHL's Minot, North Dakota Minotauros last season.
"I'm excited and grateful for the opportunity to join the Marksmen," said Sharkey. "My family and I are looking forward to making Fayetteville home and can't wait to be a part of the community."
Sharkey logged 150 SPHL games as a player and notched 130 points (50g, 80a), all with the Huntsville Havoc. In 2018-19, Sharkey finished third in points for the eventual President's Cup champion Havoc.
A two-time SPHL champion, Sharkey also contributed for the 2017-18 championship Havoc team, and served as an alternate captain for the University of Wisconsin-Stevens Point on the Pointers 2015-16 NCAA division-III championship squad.
"[Sharkey] brings a championship pedigree as a player and has valuable experience in the SPHL," said head coach Ryan Cruthers. "He is eager to grow as a coach and will have an immediate impact on our team."
With Sharkey's experience, the Marksmen round out the 2023-24 coaching staff with a combined eight championships between two coaches.
I'm looking forward to hitting the ground running," said Sharkey, "and helping to build a culture we will be proud of for years to come."