General (Ret.) James Lindsay, of Vass, the former Commander of U.S. Special Operations Command, 18th Airborne Corps, and the 82nd Airborne Division passed away of natural causes at the age of 90 years old on Aug. 5.
"Last night, the Airborne and Special Operations Forces communities lost one of its greatest leaders with the passing of Gen. Jim Lindsay," shared Lt. Gen. Chris Donahue, Commander of the 18th Airborne Corps and Fort Liberty on the morning after Lindsay's death.
"His leadership impacted the fabric of our nation, and our generation owes him tremendously for his presence and mentorship. Gen. Lindsay was truly the heart and soul of what we are all about. We extend our sincerest thoughts and prayers to Gen. Lindsay's family as we all grieve this loss," shared Donahue in a media release.
Gen. Lindsay served in the U.S. Army for 38 years. After enlisting into the U.S. Army in February 1952, he was commissioned as an Infantry officer upon attending Officer Candidate School at Fort Benning, Georgia. His initial assignment was as a Platoon Leader in the 325th Airborne Infantry Regiment, 82nd Airborne Division.
Gen. Lindsay would go on to serve at Fort Liberty, then-Fort Bragg, with the 77th Special Forces Group (unit has since deactivated), at the Fort Bragg Noncommissioned Officer Academy, and in numerous roles within the 82nd Airborne Division.
"It is with a heavy heart we say goodbye to Gen. James Lindsay. As a former senior leader in the Airborne community, Gen. Lindsay embodied everything it means to be a paratrooper, a leader, and most importantly a good and decent human being. With more than 38 years of service to his country, commanding and leading soldiers at every echelon, he left an amazing legacy for us to emulate in the 82nd Airborne Division and he will truly be missed. Our thoughts and sympathies are with the Lindsay family and friends as they mourn the loss of this great American," shared Maj. Gen. Christopher LaNeve, Commander of the 82nd Airborne Division.
Upon activation of the U.S. Special Operations Command at MacDill Air Force Base, on April 16, 1987, Gen. Lindsay became the unit's first Commander in Chief. He also commanded 18th Airborne Corps, U.S. Army Infantry School, 82nd Airborne Division, U.S. Army Readiness Command, the 3rd Brigade Combat Team, 82nd Airborne Division, the 2nd Battalion, 60th Infantry, 9th Infantry Division, and Company B, 1st Airborne Battle Group, 503rd Infantry Regiment.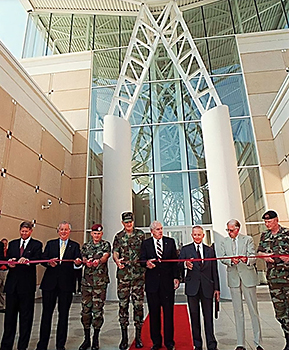 During his time in uniform Lindsay would receive numerous military awards to include four Silver Stars, the Distinguished Service Medal and the Distinguished Service Cross for combat action in Vietnam.
Lindsay retired from service in 1990 but continued his support to the military, the Fort Liberty community and soldiers.
"General Lindsay had a vision of a facility to stand as a memorial to the character and values of the men and women of America's airborne and special operations forces," according to a statement from the Airborne and Special Operations Museum.
"With General Lindsay's guidance, community leaders and the United States Army joined forces to bring his vision to fruition. On August 16, 2000 (National Airborne Day) the museum opened to the public to much fanfare. General Lindsay served as President Emeritus of the Airborne and Special Operations Museum Foundation until his passing."
In celebration of the life and leadership of General Lindsay, a Designated Endowment Fund was created through the Cumberland Community Foundation to support the mission and programs of the Airborne and Special Operations Museum Foundation.
A celebration of life service will be scheduled at the Airborne and Special Operations Museum to honor his career of service at a later date.