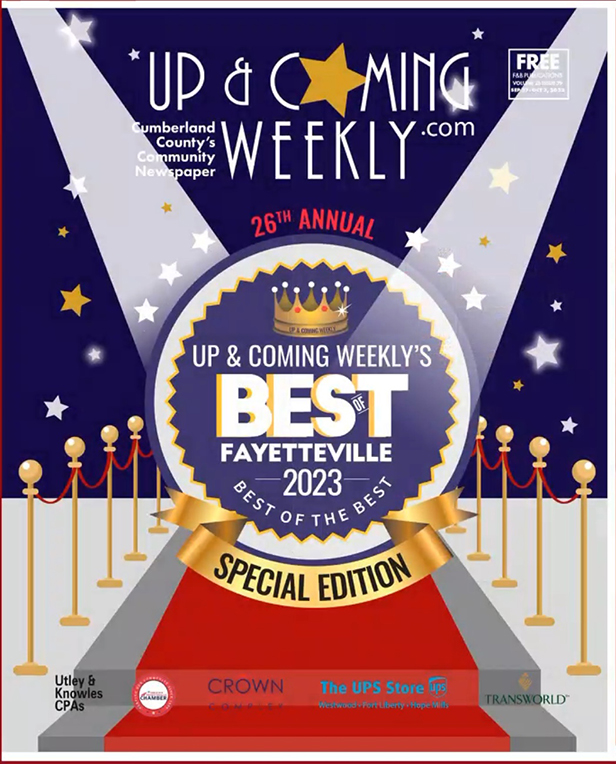 For 27 years, the Up & Coming Weekly community newspaper has served residents, visitors and guests by providing timely, accurate and trustworthy news, views and relevant community information to enhance the quality of life in Fayetteville and Cumberland County.
The Best of Fayetteville initiative recognizes those people, businesses and organizations who have gone the extra mile by investing their time, passion and financial resources into defining value and excellence in our community. Annually, we receive thousands of ballots and painstakingly record the comments and sentiments of our dedicated readers.
The Up & Coming Weekly Best of Fayetteville reader's survey is not scientific, but it is an informal, well-executed and documented survey that has proven incredibly reliable. Its longevity, popularity and success bear this out.
It is imperative that Up & Coming Weekly's Best of Fayetteville survey not be confused with other local advertising, marketing and promotional programs. Our readers decide the merits of our winners by their survey entries.
We do not accept nominations; no person, business or organization is required to purchase advertising space, sponsorships or event tickets to find out who the winners are. Best of Fayetteville does not award or recognize 2nd or 3rd place finishers or honorable mentions.
We use well-defined, regulated voting guidelines that ensure and elevate the value, honor and prestige of the Best of Fayetteville designation. There can be only one Best of Fayetteville winner for each category.
We celebrated the occasion with our annual Best of Fayetteville Awards Party at the Crown Coliseum Complex on Sept. 26 to recognize and honor these outstanding people, businesses and organizations. Up & Coming Weekly, Transworld Business Advisors, the UPS Store, and the Greater Fayetteville Chamber hosted the event.
Our community, like our newspaper, has changed over the last 27 years. However, our Best of Fayetteville survey and our commitment to our readers have not. We continue to accentuate the "Best of the Best" aspects of the community. And, we thank you for being part of it.
The Up & Coming Weekly Best of Fayetteville edition you are holding in your hands will serve you well throughout the year. It is a valuable visitor's guide, service directory, event and cultural resource. In print and online, the visitors bureau, the City, County and Chamber will use this special edition throughout the year to promote the Fayetteville community and the people, businesses and organizations that define it.
Since the first ballots were cast more than two and a half decades ago, Up & Coming Weekly has proudly told the Best of Fayetteville winners' stories. With your votes and support, we are incredibly proud to share this year's Best of the Best winners. Please join me, the Up & Coming Weekly staff, and all our 2023 Best of Fayetteville winners and sponsors as we begin this year-long celebration.
This special edition will be posted online at www.upandcomingweekly.com with 24/7, 365-days-a-year access to the Best of Fayetteville winners directory. While on the website, sign up for your free electronic subscription to the Up & Coming Weekly community newspaper and receive it on your home or work computer.
I want to thank our sponsors for their support and participation in making this year's BOF a success. Nat Robertson, President of the Greater Fayetteville Chamber, and Debbie and the late Steve Milburn of The UPS Stores in Westwood Shopping Center, Hope Mills, and Fort Liberty, for their support and the creation of the beautiful Best of Fayetteville awards. Ashley and Thomas Kelsey, owners of Transworld Business Advisors, make their living providing expert information and consulting on all aspects of business success. Every legitimate survey needs the oversight of a competent CPA, and we have the best. Lee Utley of Utley & Knowles CPAs has partnered with us for over two decades. His services have been invaluable in maintaining the integrity of the survey. General Manager Seth Benalt and Assistant Manager Dorothy Strahley of the Crown Coliseum Complex did an outstanding job coordinating and setting up the Awards Party.
Last but certainly not least, a very special thank you to Don Garner and the entire Up & Coming Weekly staff, who have spent months working tirelessly on this major undertaking. Best of Fayetteville is our most significant and challenging event and the most popular and most-read edition of the year. With pride, they have gone above and beyond their duties to produce this award-winning publication. Keep it handy and refer to it often.
We sincerely thank you for reading Up & Coming Weekly and supporting this community newspaper.