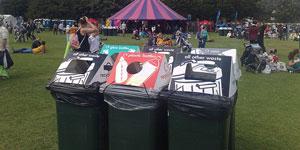 It's no secret that for a number of years Fayetteville struggled with an image problem. Over time, that has changed. Visitors to our city no longer drive as quickly through it as possible; instead, they sit a spell. They take time to grab a bite in one of our numerous restaurants. They wander the downtown streets and check out the eclectic and interesting shops that line our city center.
That was seen so clearly on Friday night as the Dogwood Festival kicked-off a weekend of fun for our city. The event also coincided with 4th Friday, which is also a major draw to our city center. The two combined for a one, two knock-out punch to visitors and residents alike.
I spent the majority of Friday evening downtown. I was thrilled to see the number of people who were strolling down Hay Street checking out the various art venues. More exciting was the musical entertainment that was scattered throughout the city center. I was really thrilled to see a drum group set up in the Market House. At that moment, it was easy to see the vision we have for our community. It was easy to believe we are close to accomplishing it.
But, of course, when things are going great, something or someone rains on your parade. In this case, it was the guests that our city really doesn't need or want to come to any party we plan. You know who they are. They are loud. They don't really pay attention to what's going on around them, and, they litter.
I'm not talking about accidental littering. I'm talking about over-the-top, I don't care if there are 50 trash cans around me, I'm going to drop my trash right on the ground, and keep going to see what's in it for me.
And believe me, we had plenty of those guests in town for the festival. And the sad part is, most of these people probably call Fayetteville home.
I saw them Friday night. Finished with your funnel cake? Don't worry about the trash can three steps to your right, drop the plate right on the ground.
That beer tasted good, right? That cup didn't look so good on the ground where you and your buddies dropped it, which by the way, was right in front of the trash cans.
Don't even get me started on Saturday. As is our custom, the staff at Up & Coming Weekly and Kidsville News! was manning a booth near the Midway. People were busy visiting booths to see what kind of take-aways they could get, and if they didn't like the gifts, they dropped them on the ground. The same can be said for their corn dogs, lemonade cups, and yes, you Mr. Man, who fi nished your coffee and then dropped the cup (and its remnants) on the ground for everyone to step over or in.
The Dogwood Festival is an event designed to focus on the beauty of our community. It's designed to welcome Spring, a time of renewal. It's not a time to lay waste to our beloved city with trash.
If that's your idea of fun, consider yourself uninvited