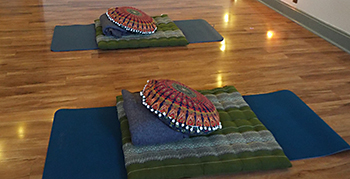 "In a world full of doing, doing, doing, it is important to take a moment just to breathe, and just be." -Author unknown.
Mindfulness activities address suffering and vulnerability. It is the awakening to our best and shadow self. Mental wellness is being in the present moment.
The Prima Elements Holistic Wellness Center's meditation and mindfulness classes addresses wellness practices within our lives. The Mindfulness and Self Worth Meditation is on Wednesday, Nov. 8, at 124 Anderson Street. The class will be held from 6:30 p.m. to 7:30 p.m.
"Prima Elements is committed to providing our community with essentials for optimal living. Our wellness center offers holistic health services. Our wellness services offer caring, expert, clinicians and staff that provide natural remedies, massages, and detoxifying natural cleanses. Prima Elements hosts wellness services such as Yoga, Meditation, Reiki and RestStation Therapy," said Audriaunna Burgos. "[The center] has been in existence since 2012. Hilda Burgos, Fayetteville resident, nurse and retired IT consultant at Fort Liberty, is one of the founders. Adrian Burgos and myself are responsible for the operational aspects of the Prime Elements Holistic Wellness Center."
Tyreena G is a vital team member to Prima Elements. She is an herbalist, teacher, plant vegan chef and meal planner, and creator of customized teas for the Wellness Center. She calls her customized teas Tyreena G Tea Brand. Flavors included are Thee Jazzy Beet, The Respiratory Blend, The Rooted Blend and Blue Lotus &Butterfly Pea.
"My passion is fulfilled at the Prima Elements Holistic Wellness Center by the development of personal relationships, opportunities for creative expression, researching new options and focus for health and wellness education," Tyreena G. said. "Herbalism is a family tradition for me, my family is originally from Jamaica. My family members developed and utilized herbs and plants to heal and maintain good health. My Jamaican roots are an influence upon by cooking style. The guidelines are plant-based vegan, simple preparation and ingredients and nutrients from the fruits and vegetables of the earth. Did you know strawberry leaves are excellent for Tea?"
Do you desire to sleep soundly, energize naturally, and silence the inner critic? Have you experienced stress and anxiety? Do you want to feel calmer and experience peace? Experience the Mindfulness and Self -Worth Meditation at Prima Elements Holistic Wellness Center, 124 Anderson Street. The meditation session is from 6:30 p.m. to 7:30 p.m. Members are free, admission is ten dollars per person for non-members.
Contact 910-483-8406 or text 910-456-6533 for more information.