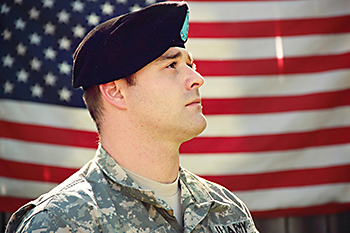 This Veterans Day, we celebrated the best our nation has to offer. We extend our respect, our admiration, and our appreciation to all who have worn the flag of our nation on their uniform.
As the representative of the largest Army base in the world, my top priority is making sure our veterans, as well as our troops and their families, get the support they deserve.
I was proud to support the FY24 Military Construction, Veterans Affairs, and Related Agencies Appropriations bill, which passed the House in July and fully funds veterans' health care programs, benefits, and other critical VA programs.

I am especially proud this legislation contains my amendment to bring attention to funding the Veteran Crisis Line. I have fought for years to include this necessary funding that our military community deserves, reducing the stigma around mental health, and I was proud to secure these large wins for the thousands of veterans living in our community.
In North Carolina, Veterans Day is not just one day a year—it is a year-long call to action. With the suicide rate among our nation's veterans being 2.5 times more than civilians, I've made it a mission to do everything I can to address this tragedy.

One effort that is making a difference on a national level is Warrior Call Day, which has gathered support from dozens of veterans organizations and seven former Veterans Affairs Secretaries. Earlier this year, I introduced a bipartisan resolution to designate November 12, as National Warrior Call Day for 2023.

I encouraged folks in our community and across the country to take National Warrior Call Day as an opportunity to check in on someone they know, active duty or veteran. I look forward to the day we get this resolution across the finish line and signed into law.

The Veterans Crisis Line acts as a critical tool to help our veterans in their time of need, and the number of annual contacts received—which include calls, texts, and chats—increased 15% between 2020 and 2022.
With this resolution, we are one step closer to addressing the challenges Veterans face head-on by keeping our promises made to them for their service and addressing the stigma around seeking help.
If you are a veteran or know someone who needs assistance, contact the 24-hour Veterans Crisis Line at 1-800-273-8255 or 988 and Press 1, text 838255, or chat online at www.VeteransCrisisLine.net/Chat.

While we can never thank our active duty military, their families, and our veterans enough for their service, one thing we must do is improve the quality of health care we provide them. For example, Mastehr Sergeant Rich Stayskal, a resident of Moore County, served our country honorably and was wounded in combat. While stationed in our region, a missed cancer diagnosis changed his life. In response, I helped change federal law in 2020 so Rich and other military families who are victims of non-combat related medical malpractice while on active duty could receive support. However, the Department of Defense has failed to implement the law properly, stealing hope from Rich Stayskal and hundreds of military families who have been harmed by medical malpractice.

This year I was proud to introduce the bipartisan Healthcare Equality and Rights for our Heroes (HERO) Act to correct this wrong and give our nation's heroes who are victims of malpractice from a DoD medical treatment facility the opportunity to take their claim to District Court.

Our servicemembers should have the right and opportunity to fight for the compensation and justice they deserve, and I will not stop fighting until they get it.
Our region is home to thousands of veterans, and it is my duty as their Congressman to ensure our veterans have access to the resources and benefits they deserve.

Too often veterans face bureaucratic obstacles at the Department of Veterans Affairs that hamper their access to care or benefits, and our office is here to help. If you or a veteran you know has experienced issues with the VA, please visit Hudson.house.gov or call our Southern Pines district office at 910-910-1924.

I continue to pray for the strength and safety of soldiers from our region who have been or will be deployed.

As your Congressman, it is an honor to represent so many men and women who have worn our nation's uniform and who bravely answered the call to defend our freedoms on the front lines.
America's servicemembers and veterans have given so much in the defense of our nation, and there are no words strong enough to express our sincere gratitude and deepest appreciation.
Until Next Time.
Editor's Note: National Warrior Call Day is nationally held the Sunday after Veterans Day and began in 2021 as an initiative to help veterans who are in crisis. If you know a veteran in need, you do not need to wait until National Warrior Call Day 2024 to reach out to them. For more information, visit https://warriorcall.org/warrior-call-day