This week marks a couple of anniversaries. They aren't the kind that you celebrate, rather the kind that you look back on and probably shed a few tears over and then give thanks that you or your family or your friends made it through.
I'm sure you have figured out by now that I am talking about the anniversaries of 9/ll and Katrina. Both impacted our nation in very real, very painful ways and both found our nation unprepared.
I look back on pre- 9/11 days and marvel at the total lack of security we had in our communities. Think about it: Fort Bragg had just started putting up gates a year or so prior to 9/11, and none of them were staffed. I wasn't at Fort Bragg's command center the evening of 9/11, but I know it had to be chaotic. Within a few short hours, Fort Bragg became a veritable fortress.
As I tried to get to work on Sept. 12, I was met with a parking lot on All American. I left my home at 6:30 a.m. and drove to my baby's daycare on Morganton Road. I got on All American at a little after 7 a.m., and I didn't walk in the doors of Womack Army Medical Center, where I worked at the time, until after 5 p.m. Everything was stymied. No one really knew what to do, and none of us knew what to expect.
I did not expect to spend a whole day on the All American. I didn't expect to field phone calls from the hospital's PAO office all day on my personal cell phone, but I did. Imagine my surprise when I got my telephone bill and it was more than $300.
To me, having my vehicle searched by armed soldiers at the checkpoint for the post, and again at the checkpoint for the hospital, was like something out of a movie. That didn't happen in our country. Not in my America. But when the Towers fell, our innocence was ripped apart, and the things that we saw on newsreel from foreign countries became our reality.
As I inched my way to post that day, I knew that our lives were forever changed. As a military spouse, I expected my husband to go on training missions and to be gone for a few weeks at a time. Never, in my wildest dreams did I ever think that the infant I dropped off that morning would grow to a 10-yearold, and have his dad deployed to war for more than five of those years.
That morning, as I grumbled about the wait, I couldn't begin to perceive the loss of talented, caring people who have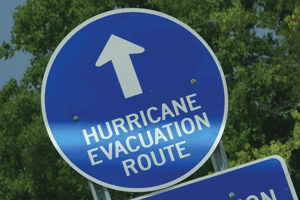 made the ultimate sacrifice to protect our nation. That wasn't our America. But it is now.
None of us expected 9/11, but we have adapted because of it. We have changed. And it has made us stronger.
Katrina had a different impact on us. For some, the devestation of the storm shook their faith in our government's ability to respond to us in crisis. I remember vividly watching the devestation in New Orleans through the lens of news reporters. They brought the hopelessness and the misery into our homes. We couldn't think about being those people. They were our neighbors, even though they were miles away.
Like New York stood back up in the days and weeks following 9/11, New Orleans staggered to its feet and in its finest tradition thumbed its nose at chaos and chose to come back to life.
If the anniversary of these two events is to be more than sadness, it should be a celebration of the strength of our nation. A testament to our unfaltering ability to get back up when we are knocked down, and a witness to the way we care for one another.