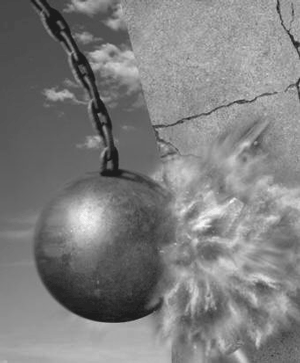 The Prince Charles Hotel and the Capitol Building have garnered a lot of press and a lot of headlines over the past year. And it doesn't look like that's going to stop anytime soon.
No surprise to most of us, John Chen has packed his bags and headed back up north where he says he can make more money. That's probably true. There isn't a lot of profit in renting rooms for about $400 a month to 30 people. Especially when you bought the building for more than a million dollars.
There really can't be much profit in that when you take into account the fact that he is paying the electric bill and phone bill for those folks. And there really can't be much profit in the Prince Charles when he's accumulating fines on a daily basis.
And it looks like Chen's problems are only getting worse. As of Monday, all of the residents of the hotel were supposed to be out of the building. It seems Chen likes doing construction that isn't quite up to code, and that in essence, turns the hotel into a fire trap if local fire officials can be believed.
At this point, they seem way more believable than Chen.
From his office in New York, Chen refused fi re marshals access to the building and called the City of Fayetteville hostile. I think the city would probably use the same words in regard to him. This has been a no-win situation from the get go. For the Prince Charles to ever be more than an albatross around the neck of its owner or the city, it will take a massive infusion of cash (in the millions) to renovate and restore the building to its former glory.
Not to be a downer here, but that's never going to happen.
Sometimes, and it's a painful thought to those of us who love old historic buildings, you have to get down to the economics of things. Is the land the hotel sitting on worth more than the decrepit building? And on the face of it, I believe it is.
Would it be better for a developer (or if the city condemns the building) for it to be torn down and something be built that could actually add to downtown rather than take away from it? From where I'm sitting, the answer is yes.
If the building remains in its current state, it is only going to go down into further disrepair. Is Chen or is anyone going to pump millions of dollars into the facility in today's economy?
Let's be real.
So the question for the Prince Charles isn't whether there is a vinyl window sticking out like a sore thumb, it's really should there be any windows at all?
Down the street, the Capitol Building had millions of dollars infused in it, and today, it's closed, and as of last week, the bank had taken ownership of it.
This leaves the city in a sticky wicket because of the money invested through the Community Development Block Grant. It seems, from what we hear, that the city was remiss in not keeping financial checks on the health of the Docks venture. Now the city is holding a bad note, and the bank has collateral.
It doesn't take a rocket scientist to figure out who the loser is here.
The building should be going on the auction block in December. Who is going to buy it? Will it be another Chen? Heaven help us if it is.
Downtown can be a viable place to conduct business, but not for people flying on wing and a prayer. It takes a sound financial business plan and you have to be committed to working the long hours and keeping your doors open past 6 p.m. Just ask Josh Collins, owner of Huske Hardware House.
Greatness for downtown can't only happen on 4th Friday and on festival weekends. It has to happen every day. And that means the streets don't roll up at 7 p.m.
It also means that downtowns hopes can't only be tied to galleries and artists. Ask the gallery owners who have shut their doors over the past couple of years.
t must be tied to financially sound businesses and retailers who will keep their doors open after 5 p.m. every day and will open on weekends. That's what will build a downtown with heart, whether the Prince Charles is there or not