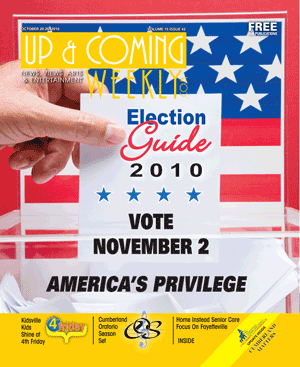 Well, if you haven't yet already "early voted" then the contents of this edition will surely assist you in becoming familiar with some of the candidates who will ultimately be asked to serve our community, our state and our nation.
This is a very, very important calling. Seventy-two percent of Up & Coming Weekly readers are registered voters. This is no wonder since community newspaper readers tend to care about their communities and issues that affect their families, jobs and quality of life.
If you haven't noticed this community is on the grow and the signs of progress, growth, development and prosperity can be seen in many aspects of living in Fayetteville, Fort Bragg and Cumberland County. At no time has this been more evident than last weekend when Festival Park hosted thousands of Cumberland County children, educators and dignitaries during the 10th Annual Reading Rocks Walk-A-Thon. Directed and organized by Belinda Cashwell, hosted by School Superintendent Dr. Frank Till, supported by local businesses and organizations and emceed by community and education advocate John Malzone, this event was the near perfect snapshot of how a community invests in its future.
The fi rst big news of the morning was the announcement that the event raised more than $200,000 in support of reading and literacy programs for local children. This is a strong indication and reflection that the Cumberland County Commissioners are spending tax payers money wisely when they invest in Cumberland County children and provide money to an organization that puts forth an exerted effort to help itself. This is leadership personified.
The second highlight was when Debbie Lister, the senior director of the Washington, D.C. based America's Promise Alliance, presented Fayetteville and Fort Bragg with a combined award that recognizes the community as one of the America's Promise Alliance's 100 Best Communities for Young People. This is a major honor and one that confirms that our local leadership has set the correct priorities...reading, literacy and children.
It is my hope that Fort Bragg and the City of Fayetteville make a big deal about this and encourages the promotion and posting of the APA emblem of distinction at all entrances to the city and Fort Bragg, on city vehicles, stationery, etc. This is a very a big deal!
So, why does your vote count? Because the people we elect on Nov. 2 will be the ones charged with continuing the task of keeping our children and the welfare of our community the top priority for all levels of government.
Anyone can run for offi ce but only a few are capable of leading with contemporary wisdom and vision. It will be up to us on election day to make the distinction. Vote.
Thank you for reading Up & Coming Weekly