Two and half years ago, I found myself driving down I-95, having packed up everything I owned and moving to a community that I knew little about. Like many people I know, my career had brought me to Fayetteville. For the first few months, I focused on my job, got to know my co-workers, and was involved with a few community events here and there.
After the excitement of a new town had worn off, I sat back and realized that I knew very little about the community where I lived and the people who lived here. The common themes ran through my head: "there is no one like me here," "this is a small town, and unless you were born here, you are an outsider", and of course, "there is nothing to do here."
After some coaxing from someone I had met at one of the "here-and-there" community events, I finally decided to look into the Fayetteville Young Professionals. I found a group of young men and women, who, just like me, were eager to meet new people, get involved in our community, and make a difference.
"There was no one like me" because I chose not to meet them. The only reason I felt like an outsider was because I allowed myself to be one. And the only reason there was nothing to do was that I chose not to do anything.
My advice to anyone that finds themselves in the same situation I did is to visit www.fayyp.org and come to the next event that interests you. Any Wednesday morning, join us for breakfast at Haymont Grill. We are there from 6.45-8.30. If you are not a morning person (I am not but still manage to make it every once in a while), check the calendar for the monthly Lunch and Learn series where we have a guest join us to discuss their field of expertise. In the upcoming months, our topics will include personal nutrition and the Fort Bragg expansion. And for all those people who have wanted to learn to play golf but are too embarrassed to hack away in front of your friends who have been playing for years, be on the lookout for Summer Golf Lessons sponsored by FYP.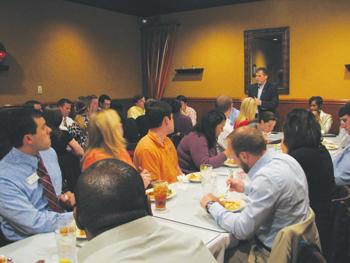 Finally, if you have ideas of your own for events or activities that are currently not on the calendar, join either the Professional Development Committee (email profdev@fayyp.org) or the Social Committee (email social@fayyp.org). We are always looking for new ideas and people who are willing to act on them.
Do not let others control your happiness. If you are willing, you can make a difference and make Fayetteville a better place to live, work and play.
To become a member of FYP, please visit: www.fayyp.org. For questions, please email chair@fayyp.org.
PHOTO: FYP Lunch and Learn with Mayor Tony Chavonne, and City Council members Bobby Hurst and Valencia Applewhite.