Summer has arrived! For those of you not from North Carolina, you may be wondering how we know that summer is here? Answer: the heat! Each year it amazes me how much shorter spring seems to be — you know, the mornings when you wake up and it's a brisk 70 degrees, birds are chirping and the smell of fresh cut grass is in the air? I feel like spring used to last for a few months, say March through the end of May at least, but not anymore. Now we wake up in the morn-ings to a sweltering 92 degree heat, the sweetly singing birds have traded places with bothersome "no-see-'em's" and mosquitos (don't worry, they're coming any day now); and the grass, once misted with morn-ing dew, is now laced with the moistness of humidity. Ahhh … summer.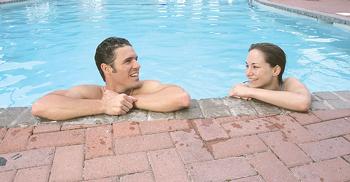 Some of you may think it sounds as if I don't like summer. Nonsense. As a child in school I used to beg for the beginning of June! That last school bell would ring and there I'd go, beach towel in hand, headed for any pool I could catch sight of to practice my back flip from the diving board (which by the way I wouldn't do now if someone paid me). Back then, summer meant no more classes, no more teachers, no more cafeteria food, no more structure. Instead, the almost 90 days before me meant sleeping in, popsicles and ice cream, riding in my dad's convert-ible and pretty much just being quite lazy.
The Fayetteville Young Professionals is taking this summer to really bring out the "young" in our title as well by enjoying a small summer break. We know that many of our members and potential members will be hitting the beaches or the golf courses on the weekends; taking family vacations and really embracing a less structured life-style we'd like to blame on summer. So … FYP too will take the attitude of becoming a little less structured throughout June and July. After all, everyone needs a small break sometimes. Instead of forcing our members to dress in their business attire while attending Professional Development Luncheons, and fancy social events, our monthly calendar is going to be "easy breezy."
Join us over the next couple of months for informal meet-ups every other week starting with Friday, June 3 at 7:30 p.m. on the It'z Entertainment City patio to enjoy an evening with Liquid Pleasure, and no, I'm not referring to cocktails. It'z will host this popular East Coast band. Join other FYP members as we do a little networking and a lot of "chillin' out!"
You'll have a second chance to put on your favorite flip-flops and meet-up on Thursday, June 16 at Blue Moon Café and Fayetteville After 5 at Festival Park. FYP members will meet at Blue Moon around 5:30 p.m. for cocktails and then head down together to Festival Park for Fayetteville After 5 for some relaxation on the lawn and some great music by the Café Mars band.
And not to worry, for those of you who still like to be a little productive during the summer months, FYP has been asked to provide volunteers for the Fayetteville Cares Boots & Booties Baby Shower (presents are provided to 1,000 military mom-mies-to-be) on June 25 at the Crown Expo Center. If you would like to help FYP give back to our community, please contact Michele Macumber at: volunteer@fayettevillecares.org and she'll get you signed right up!
We will start back in August with our full-time event schedule as well as kick-off the year with our famous Annual Membership Party (AMP)! We can't tell you where or quite when it will be but we know it's going to be fabulous and we will want all of you to attend! Be on the lookout later this summer for more details!
Make sure to check back with our Up & Coming Weekly article next month, as well as our FYP website (www.fayyp.org) to get the latest happening with FYP.
Photo: The Fayetteville Young Professionals is taking this summer to really bring out the "young" in our title as well by enjoying a small summer break.