Although I am not a doctor, I was in the medical field at one point of my life. So I feel good about my diagnosis and prognosis for this article.
My friend Rick and I met some friends at Natural Bridge, Va., for a rally hosted by Morton's BMW. Nestled north of Roanoke between the Blue Ridge Parkway and I-81 this place was load-ed with riding adventure. As we were getting ready to leave for that day's ride another rider asked to join us. I can't remem-ber his name but for the sake of this article I will call him KLIM because he was wearing KLIM protective gear.
KLIM was wired: high-tech clothes, safety equipment and high-tech ac-cessories. Between his GPS and his high-definition camera he was busy with the gadgets.
As we rode, KLIM was in front of me. KLIM was constantly playing with his toys. As we approached a hard right corner his head was down and he didn't see it coming. He was heading straight into the guardrail. KLIM looked up and grabbed brakes! I really think that his ABS saved him. He was already across the on-coming lane and into the gravel when he stopped inches from the rail.
He shook it off and got back on the road. When we stopped for a break I asked him what had happened? He said that he was trying to turn his camera on and was looking at his GPS.
At that point I diagnosed him with E.A.D.H.D.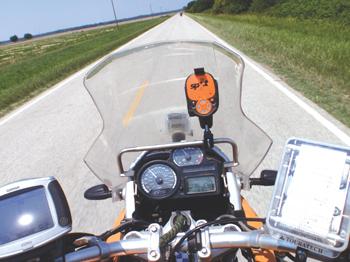 E.A.D.H.D. is Electronic Attention Deficit Hyperactivity Disorder. This happens when you put your head down into an electronic device and you men-tally remove yourself from your surroundings.
I suffer from E.A.D.H.D. myself. I am surrounded by electronics and infor-mation devices on my bike. I have my GPS with built-in MP3 player, a SPOT (satellite transponder), camera, roll chart and map case on my tank bag. I use to have my phone and GPS tethered via Bluetooth to my helmet. However, after much thought I've moved away from the Bluetooth helmet configuration because I just couldn't get past the idea of plugging up my helmet every night.
We have become a society that craves information. We text, email, leave messages, Face Book, we take pictures and share them and on and on and on.
As we met up with our friends we went to eat dinner. It had been a year since we see each other. As we sat down to eat our phones came flying out. As I looked around we all had our faces down into our Smartphones.
The next night I asked Rick if he was going out to eat and he said "No." because we had brought camping food. I said "Let's go, we don't see these guys that often," and he replied "Why? You guys just sit around and play with your phones."
After watching KLIM's life flash before my eyes I thought about the safe-ty and the distractions and dangers that electronics can bring to riding.
My friend John Ross told me once that the best way to wreck is to turn on a camera. I believe that is true. Like any ham in front of a camera a mo-torcycle rider will ride harder, faster, and do more foolish things to get our moment of glory.
So is there a cure for E.A.D.H.D? Yes, there is. Don't play with things you don't have to when you are riding. Make your devices convenient and ergonomically to use, work and control. Know your surroundings. Pull over and stop your bike. If you must take your eyes off the road, slow down and think ahead.
So next time you are communicating with anything other than the road then pull your head out of your rear-end and put your eyes back on the road.
Ride Safe!
Photo: So, next time you are communicating with anything other than the road then pull your head out of your rear-end and put your eyes back on the road.