What is the best thing to do when it's 95 degrees in Fayetteville? Go upstairs, set the air conditioner on stun and sob quietly until the fi rst week of November when it finally cools off? Nope, that's for sissies. Our Kiwanis group hopped on Amtrak and headed to sunny Charleston, S.C.: The land of shrimp and grits. The land of batchelorettes frolicking in roof-top pools. Charleston has it all.
It's an easy three-hour train ride to Charleston. Amtrak stars a bar car providing adult beverages and pretzels. Trains are far superior to airplanes. No cranky TSA workers personally groping or irradiating the passengers. You keep your shoes on. The seats are comfortable and suitable to the human body. Unlike an airplane, two people can actually pass each other in the train's aisle without exchanging bodily fluids.
We stayed in downtown Charleston at a quaint little bed and breakfast converted from a motel. I highly recommend the Bates Pondside Inn on Meeting Street. The proprietor is a delightful chap named Norman Bates. Norman, as he insisted we call him, is extremely knowledgeable on local attractions. He is so kind he wouldn't hurt a fly. Norman is an exceptionally devoted son. He spoke frequently and lovingly about his mother, Mrs. Norma Bates. Unfortunately, we never actually got to meet Mrs. Bates. From w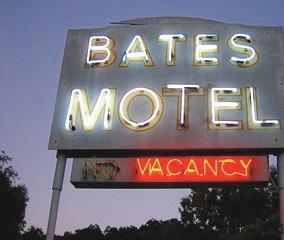 hat Norman told us, she is a lovely woman and a genteel daughter of the South.
In addition to being a congenial host, Norman is also an accomplished taxidermist. He is deservedly proud of his fascinating collection of stuffed dead animals. Norman gave us excellent personal attention. We were the only guests staying at Bates Pondside Inn except for one lady who we never saw during our entire stay. We saw her name on the guest register when we checked in, a Ms. Marion Crane. Ms. Crane came down to do some banking business and spent very little time at the motel. Curiously, Ms. Crane parked her car in the nearby pond in water that came up to the roof. Parking in the pond allowed Ms. Crane to stroll through the elegance of Charleston without the hassle of street parking. Norman explained that Ms. Crane was from Boston and followed a New England tradition of leaving her car in a pond to keep the engine lubricated. Those madcap Yankees, what will they think of next?
Our room was a timeless triumph of understated Victorian serenity. The Bates Pondside Inn was built before air conditioning. It has a unique ventilation system consisting of holes drilled into the walls concealed behind paintings. These hidden holes allow a cooling cross circulation of the breeze from the Cooper River. The design of the ventilation system is so subtle we didn't know the holes were there until we spotted light coming from behind a picture in the bathroom on our second night. We pulled the picture aside to see the source of the light. Much to our delight, we saw Norman's eye peering back from the adjoining room. He explained that he was setting up an arrangement of gardenias next door so that the sweet aroma of summer fl owers would drift into our room through the ventilation holes. That's the kind of personal service you just don't get anymore. What a thoughtful host!
The only minor problem that we encountered during our stay at the Bates Pondside was quickly resolved. Our bathroom did not have a shower curtain and the shower's drain was clotted. A quick call to Norman and he fi xed the shower in a jiffy. He explained the previous guest had very long hair which had blocked the drain. He was so concerned we enjoy our stay that he even brought over some very expensive scented bath soaps to encourage us to shower frequently to enter the magical world that is the Bates Pondside Inn.
In a world troubled by Congressman Anthony Weiner's underwear tweets from the darkside; John Edwards' indictment for payments to his baby momma; and Sarah Palin's revision of Paul Revere's ride, it is gratifying to know that the unique hospitality of the Bates Pondside Inn offers a respite from our harried work-a-day world.
The mission statement of the Bates Pondside Inn says it all, "Check into the Bates, and you'll never check out."