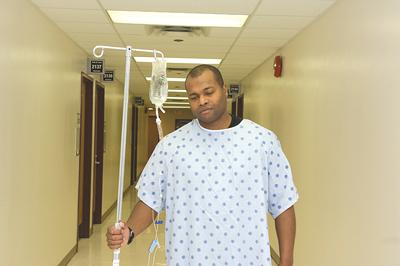 An agency of the state of North Carolina recently held a ludicrous meeting.
Yes, I know that's not particularly news-worthy. It's a safe bet that on every week-day, and more than a few weekends, state government convenes or hosts at least one meeting that wastes the time of its partici-pants and the money of the taxpayers.
But the meeting to which I refer, a state regulatory hearing about potential hospital expansion in Wake County, is a particularly egregious case. The hearing, just outside the state capitol in the Garner Historic Auditorium, featured a series of hospital lobbyists and executives trying to obtain state permission to open or expand hospitals in fast-growing areas of the county.
WakeMed, a private nonprofit that used to be a county-owned hospital, is one of the bidders. Rex Hospital, which used to be a private nonprofit but is now owned by the state, is another bidder. Novant Health, a Winston-Salem nonprofit that owns 13 hospitals across four states, is the third bidder.
Why can't these competing institutions simply make their own decision about where to invest in new hospital capacity, weighing the costs and benefits according to their own projections and business strategies? Because the state of North Carolina won't let them. North Carolina still utilizes a certificate-of-need system to authorize new hospital beds and other medical services.
Rather like Bulgarian shoe companies and Romanian food processors once had to do, North Carolina's hospitals have to submit their ideas to gov-ernment officials, who then get to decide whether those ideas are consistent with a central plan.
In this case, reports the Raleigh News & Observer, the state has "determined that Wake County needs 101 new hospital beds over the next several years to keep up with increasing demand and the growing population."
Really? How can the state's hospital commissars be sure that the true need isn't 104 beds or 97 beds? And if they predict incorrectly, who pays the price?
I suppose I could write a lengthy ex-planation of why central planning is a poor way of making medical decisions. I could point out that states without certificate-of-need laws do just fine, and that there is no empirical support for the assertion that certificate-of-need regulation improves the quality or reduces the cost of medical services.
I could — but that would be redundant. My JLF colleagues Roy Cordato and Joe Coletti have already explored these is-sues in great depth.
So I'll just say this: If you think that the best way to decide who should build new hospitals, and where, is to entrust the decision to a heavily lob-bied state agency rather than competitive markets, you and I live in very different worlds.
In mine, it is the year 2011 and Soviet-style central plan-ning is on the outs. In what world do you reside?
Photo: North Carolina still utilizes a certificate-of-need system to authorize new hos-pital beds and other medical services.