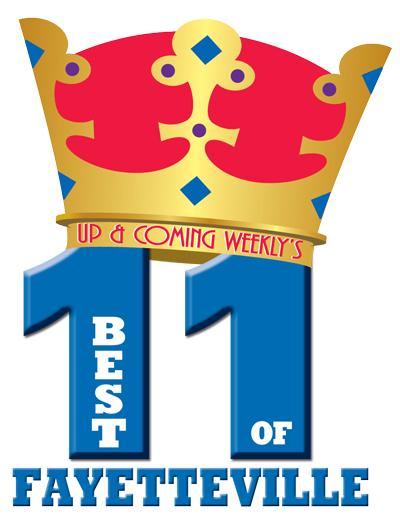 With Fayetteville's recognition as an All-America City, our new and exciting Botantical Garden Complex, a re-invigorated downtown and the recent opening of the N.C. Veterans Park, I guess it is getting pretty diffi cult to pinpoint just what we like "best" about this community.
For the 14th year in a row, we are going to try. Yes, get ready Cumberland County, Fayetteville and Fort Bragg — it is that time of year again when we poll our Up & Coming Weekly readers and ask them to share their opinions about local issues, people, businesses and organizations that in one way or the other has made an impact on our community during the last 12 months.For 14 years, this has been our way of monitoring local community development and our quality-of-life index while allowing us to acknowledge and congratulate publicly those who have dedicated themselves to improving our quality of life by leaving an indelible mark on our community.
If you are a regular reader of U&CW, you know we take this reader's survey very, very seriously. Our staff goes to great lengths to find, congratulate and salute the "best of the best." For those of you who may be new to the community and not familiar with the process, we encourage you to participate by completing the ballot found on page 27 and 28 of this issue and submitting it before the deadline of August 4th. Best of Fayetteville ballots my also be downloaded from our website by going to Up & Coming Weekly's website and free electronic edition at www.upandcomingweekly.com. Most importantly, make sure you follow these instructions:
1. Fill in and complete at least 15 categories.
2. Include your name and address.
3. Complete only one entry per person.
4. Mail in or deliver to our offi ce (208 Rowan St.) only one entry per envelope.
5. The most important thing: DON'T CHEAT! Not that you would, of course, but tell your friends and associates it will do them no good to try and "stuff" the ballot box.
Like I said, we have been doing this for years and we take this survey very seriously. Our readers trust our publication and have confidence in the people, businesses and organizations that support our community newspaper. And, unlike most other local contests or newspaper reader's choice surveys, all of Up & Coming Weekly's Best of Fayetteville ballots are mailed directly to a local CPA's offi ce where the process of counting, auditing and verifying begins. It is here that incomplete, duplicated, falsified, doctored and suspicious ballots are revealed and disallowed. Yes, this is a very costly and time-consuming process, however, one that has a 14-year track record of success and dependability and has proven to be quite effective. The end results have been that the Best of Fayetteville readers survey and recognition has been able to maintain its high level of integrity, dignity, honor and pride. Each winner is proud to display their plaque or certifi ate provided by our original sponsor Jimmy Keefe and The Trophy House.
So, please participate by lling out and submiting a ballot. Tell us like it is, and we will tell the community. Curious minds want to know: Who is the Best of Fayetteville? You may even win $100. We have a special drawing from all the valid submitted entries. The winner will be presented $100 at the Best of Fayetteville party on Sept. 13. We hope to see you there.
Don't forget: This year you can vote online. Include your email address on the ballot and we will subscribe you to our "free" Online Early Bird Edition. Remember, stuffi ng the ballot box will not help. To really promote your cause, business or organization just tell your friends to pick up a copy of Up & Coming Weekly, follow the instructions and VOTE. If you do not have access to the Up & Coming Weekly at your business or organization, call us at 910 484 6200 and we will make sure you are directed to the closest available outlet. With more than 500 locations county-wide that shouldn't be a problem. Above all else, have fun with this and feel free to call me anytime. We love to hear from our readers.
Thank you for reading Up & Coming Weekly and for making us Fayetteville and Cumberland County's #1 Community Newspaper.