I grew up in East Tennessee. It is a beautiful place and a draw for motorcyclists. It has recently become famous for the Snake. The Snake's heart is located in Shady Valley in the northeast portion of the state. It is where US 421 and Highway 61 cross. There is only a, intersection there, and no red light. There are three stores there with one that is dominantly marketing to motorcyclists. It will be easy to find because it has a sign and just about any given time motorcyclists can be found taking a break on the property.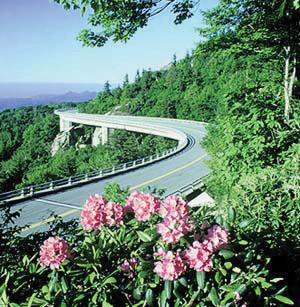 The Snake consist of the 489 curves in 12 miles. Highway 61 goes east and west from Elizabethton, Tenn. to Damascus, Va. US 421 goes from Boone, N.C. through Mountain City, Tenn. towards Bristol, Tenn. Everyone seems to find some part of the road they enjoy for their riding style.
The road itself is a well maintained surface. There is some loose gravel from unpaved roads that connect to the highway. This is a commercial-vehicle road so it is possible to go around a corner and find an 18-wheeler hogging the entire road. There is little room for error. You will have mountain on one side and a drop on the other. There are guard rails in some parts, but to a motorcyclist they only serve to be a vegamatic. Keep focused because the drops can be straight down, some 150 feet.
The highway is heavily patrolled by the Tennessee Highway Patrol. I was there this weekend and counted three in a very short time.
The road from Mountain City to Shady Valley is the curviest. The average posted speed is 20 mph. To me this is the best part of the ride because I like sharp curves going uphill. The most scenic part is the ride from Shady Valley to Damascas. Along the way is Back Bone Rock, a beautiful area in the Cherokee National Forest and a good place to stop and enjoy the mystic peacefulness on a hot summer day. In the town of Damascas you will find a lot of little shops, restaurants and coffee shops. You will see many hiker shops there because the Appalachian Trail passes through.
From Shady Valley north towards Bristol is South Holston Lake. Not far after the lake the road turns into a four lane highway without much scenery.
However, it is beautiful if you cut off and go over to the South Holston Dam.
Built in 1950, you will find a spectacular view as you drive across the 1,600 foot top and look down 285 feet into the South Fork Holston River.
From Shady Valley west towards Elizabethton is a nice curvy road over Iron Mountain.
If you are looking for a quick hike you can visit the Appalachian Trail or Blue Hole, a very nice little swimming hole with water falls. To find it, just come off the Snake until you see the brown sign on the road which will have you turn up towards Holston Mountain. About a mile up you will find a gravel parking lot. It is less than a mile to the beautiful waterfall and nice swimming hole.
If you are traveling on a Saturday night then visit downtown Elizabethton. There you will find four blocks of classic cars. You will not be disappointed.
There is plenty of nice riding in this area, so go out there and ride!
If there is a topic that you would like to discuss, please send your comments and suggestions to motorcycle4fun@aol.com. RIDE SAFE!
Photo: The Snake consist of the 489 curves in 12 miles. Highway 61 goes east and west from Elizabethton, Tenn. to Damascus Va. US 421 goes from Boone N.C. through Mountain City Tenn. towards Bristol Tenn.