You are now reading one of the most sought after and enjoyed editions of Up & Coming Weekly. It's our biggest and best read issue of the entire year: The 2011 Best of Fayetteville.
Every September for the last 14 years, we have honored and recognized the "best of the best" people, businesses and organizations that have shaped, impacted and defi ned our community's unique, award-winning quality of life. So, read, enjoy and use this special edition all year as your reference for where to shop, eat and play. Get to know and become familiar with local community businesses and organizations that have, by their actions and attention to detail, proven themselves to have mastered the art of good service and good ole fashioned southern hospitality. To all the winners we want to say thank you and congratulations!
Also, I want to thank our long time sponsors Lee Utley of Utley & Knowles, CPAs, Jimmy Keefe of Clark's Sporting Goods/The Trophy House and Rodney Chamberlin of Lido's Restaurant in downtown Fayetteville. Without their understanding, support, assistance and expertise we would not be able to maintain the success, prestige and integrity of this important program.
As you travel throughout the community, look for the Best of Fayetteville plaques and certifi cates on display at the businesses you frequent. Look for the BOF logo in their ads or as a symbol of excellence posted on their websites. Speaking of websites, this year Up & Coming Weekly is showcasing the entire BOF issue on our website and in every electronic online edition at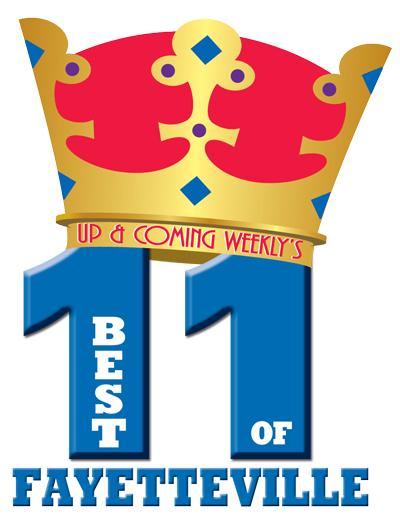 www.upandcomingweekly.com. The Best of Fayetteville edition will be sent out with every edition of Up & Coming Weekly for the entire year. Each winner will be linked back to their home website for easy access to valuable information. Read it, use it and send it to a friend with confi dence. After all, you are sending them the best of the best.
Last, and certainly not least, I want to thank the professional staff of Up & Coming Weekly. In a time when traditional newspapers nationally are challenged and tasked with maintaining their relevance as a media source with many still struggling for survival, weekly community newspapers like Fayetteville's Up & Coming Weekly continue to grow and prosper. Our dedicated and professional staff is in touch with this community and has serving the community and telling its story as their #1 priority. Nobody does it better.
Thank you for reading Up & Coming Weekly. We are extremely proud to be your community newspaper. After all, you are the best of the best.