Where Is the Logic in Occupying Wall Street?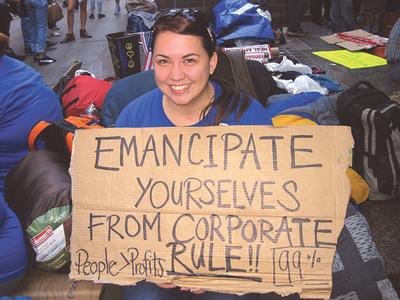 Occupy Wall Street, the current movement du jour, is bringing together tens of thousands of protesters. Unfortunately, the only thing this diverse group is coming together on is that they are victims of a rotten economy and incompetent, irresponsible and failed government leadership at all levels.
Oh yeah, it's sad, but true. In our own community hundreds of Fayetteville/ Cumberland County residents stood in long lines for hours last week at a job fair held at the Crown Center by the Cumberland County Department of Social Services. This event served as a dismal reminder of what comes from ineffective and failed government policies and blatant incompetence and dishonesty.
The constant sound bites of rhetoric about the nation's $14 trillion dollar debt, the 25 million out-of-work Americans and the prospects of increasing taxes to raise enough money to pay our bills ring hollow, when the most serious concerns are ignored.
Concerns like the gross Medicaid/Medicare fraud that totals billions. Solyndra's $535 million dollar bankruptcy and loss of taxpayers money. We can't forget, my all time favorite example of government incompetence — the covert hair brained operation of Fast and Furious which placed hundreds of lethal weapons into the hands of criminals and gangsters who are currently using them not only to commit crimes, but, to actually kill Americans.
No wonder people are angry. Targeting Wall Street, capitalism and rich people is easy. The sad truth is most of the protesters have little or no knowledge of local, state or national affairs or of how economics really work. Their time and passion is so misplaced.
Our nation was built on capitalism and through the blood, sweat and tears of true risk-taking entrepreneurs. How can this reality be ignored by protesters wearing $110 tennis shoes, Old Navy hoodies and Gap jeans while communicating on cell phones and entertaining themselves with ipads, ipods and iphones? Where is the logic?
My suggestion to these folks, and the 35 people who rallied locally around the Fayetteville Market House last week, is to first become responsible for their own actions and well being. Take control of their futures and realize that the redistribution of wealth is not the answer to their problems. The second thing they need to do is find a job. Only 4.3 percent of the unemployed have college educations. Maybe they should get educated.
Third, stop blaming everyone else. The realization that our nation was built on a foundation of hard work, free enterprise and capitalism will eventually prove them silly. Locally, we have plenty of examples of people who exercised their talents, worked hard, took their chances and succeeded in participating in the American Dream: The late Bobby McCoy, M.J. Soffee and Putt Putt Golf creator and founder Don Clayton immediately come to mind. Some of these amazing, hard working, dedicated risk takers I see everyday like Ralph Huff of H&H Homes, Ron Darden of Darden & Miranda Insurance Company, Mike Karaman of Karaman Communications, Jimmy Townsend of Townsend Real Estate, Jim Pittman of Fast Signs, Bill and Mary Mathews of M & M Leather, Don Price of Lafayette Ford and Holly Whitney of Legends Pub on Bragg Boulevard.
Entrepreneurs and risk takers everyone, and, not a "silver spoon" to be found anywhere. My list could go on and on but you get the point. The system works. It is the government that is broken. It is our government at all levels that has fostered programs and policies that cripple all Americans not just the poor and working middle class.
Only we can fix this problem and the solution is to get involved with the process. Vote in the upcoming election and let your voice be heard. This is where and how justice will be done. Not on Wall Street and not by protesting ambiguities where each fruitless day only showcases and defines the hypocrisy of the uninformed. Vote, work, educate. If you never earn a million dollars your pride, dignity and happiness will bring you wealth beyond compare. Thank you for reading Up & Coming Weekly.
Photo: Protesters rail against Wall Street while embracing the corporate culture as seen by name-brand camping gear and communications devices.