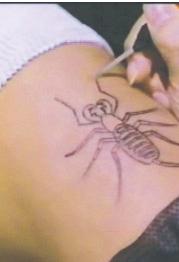 In our Oct. 12-18 issue, Up & Coming Weekly ran a syndicated article by Earthtalk from the editors of Environmental Magazine about some of the environmental and health risks associated with tat-toos. A few hours after the issue hit the streets we heard from local tattoo studios asking for an opportunity to set the record straight. A digital copy of the article can be found at www.epageflip.net/issue/44467 on page 18.
Adrian, Charlie and Hadley, tattoo artists at Divine Line Studios, Mark, owner and tattoo artist at Sky Dragon Tattoos and Piercings and "E," owner and tattoo artist at Cherry Blossom Studios Custom Tattooing and Art Gallery all weighed in to defend the tattoo industry and educate the uninformed about their work.
Just like any industry, there are highly trained professionals who take their work and their art very seriously, and there are posers out to make a quick buck with no regard to standards, best practices and the laws that regulate the industry or the health and safety of their customers. Anyone thinking about get-ting a tattoo should do extensive research before getting inked, and they all warned against the dangers involved in going to an untrained, unknowledgeable, unlicensed "scratcher" tattooing out of their home.
The Earthtalk article stated "If the tattoo parlor's needles and equipment aren't properly sterilized in an autoclave between customers, you could be exposing yourself to hepatitis B or C, tuberculosis, mycrobacterium, syphilis, malaria, HIV or even leprosy."
Charlie and Hadley both pointed out that this is true, which is all the more rea-son to research a potential tattoo artist, their studio and their practices before baring your skin.
"Any idiot can buy a kit online and start jacking up his friends the next day with no idea about cross contamination or the risk of infection," said "E," owner of Cherry Blossom Studios Custom Tattooing and Art Gallery.
Many of the problems tattoo customers face are self-inflicted. "In order for a tattoo to heal properly it is really important to follow the instructions your tattoo artist gives you," said Mark. "You'd be surprised how many people will get a tat-too and the very next day go water skiing or something crazy, not clean it and then wonder why it is infected and try to blame the artist."
Earthtalk claims that "…some red inks used for permanent tat-toos contain mercury." Artists from all three studios refute this claim saying that they know of no professional ink maker or line of ink con-taining any mercury in any of the colors. In fact, there are ink compa-nies that specialize making purely plant-based inks. Adrian was quick to point out that just like the kits that can be found online, there are probably dangerous inks available, but no artist who cares about his work or his customers would even consider using them. "
A reputable artists will always use the safest, best-quality inks and tools available no matter what the cost," noted "E".
Finding someone to do a name tattoo for $20 might sound like a reasonable deal, but for an artist using top-quality inks, and proper tools and sterilization practices, it costs about $50 just to set up their station — before they've even touched their customer or talked about size and style of the tattoo.
The artists at all three studios maintain that no self-respecting artist worth their salt would give a tattoo without making sure the customer is comfortable with their processes and practices. They stressed over and over how important it is to commu-nicate with the artist and not to move forward without feeling comfortable.
For someone looking to get inked, whether it is your first piece or one of many, here are some guidelines from the tattoo artists featured in this article for finding a good artist and protecting yourself.
• Check with the health department about the shop's licensure and health record.
• Ask to see the spore report for the studio's autoclave. In N.C. autoclaves are required to be spore tested every 30 days.
• Ask to see the equipment. Many places use disposal needles and other equipment. Ask to see the packs of needles and make sure they are not expired.
• Ask the artist about the process. What do they use to clean the skin before the procedure? What brand of inks do they use? Then go home and research the ink company.
• What are the aftercare procedures?
• Does the tattoo parlor look clean?
• Does the tattoo artist have dirty fingernails? Look sober?