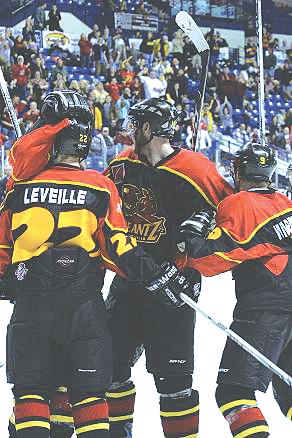 The Fayetteville FireAntz may have been on the road quite a bit for the first few months of the season, but now with the holidays here, your FireAntz have returned for a holiday home stand.
With this busy home stand, there is still plenty of time to schedule a holiday party with the FireAntz. Scheduling your holiday party with the Antz will ensure a night of fun, food and most of all FireAntz Hockey, which is a great time for all ages.
We have luxury suites, ice suites and special group rates that most everyone is sure to enjoy.
On Tuesday, Dec. 20, come watch the FireAntz versus the Augusta Riverhawks. All school children 12 years old and under will be able to enter the game for free with student vouch-ers. The vouchers for this night can be obtained by contacting your child's schools or at the FireAntz Office.
The game time for Dec. 20 is 7:30 p.m.
The next game is on Friday, Dec. 23 against the Knoxville Icebears. The FireAntz will be wearing their specialty Christmas jerseys.
The puck drops at 7:30 p.m. There will be a post-game auction on the ice for these jerseys that night.
If you are in need of something to do with your family the night after Christmas, come out and cheer on your Fayetteville FireAntz as they play host to the Columbus Cottonmouths.
Are you looking for a way to ring in the New Year? The FireAntz will host the Huntsville Havoc on Saturday, Dec. 31, and Sunday, Jan. 1, with a special puck drop time of 4 p.m.
For those who will be out of town for the holiday season, there is still a chance to see the FireAntz in action at the home game on Sunday, Jan. 8, against the Augusta Riverhawks. The game starts at 4 p.m.
Don't forget to contact the FireAntz Office by phone 321-0123 to find out about our schedule or purchase tickets so your friends and family can come out and enjoy fun filled nights of Fayetteville FireAntz Hockey where Fire and Ice unite!
Photo: With this busy home stand near, there is still have plenty of time to schedule a holiday party with the FireAntz.