Shelter or Boarding House?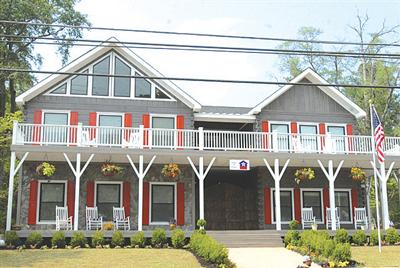 There is something about Fayetteville's Jubilee House that simply does not pass the smell test. More precisely, there are many things. Navy veteran Barbara Marshall's good works of housing homeless women veterans gained national attention. From there ABC's Extreme Makeover: Home Edition jumped into action and in short order produced a $500,000, 7200 square-foot house where once a $24,000 house stood. Well and good if the intent and purpose as Marshall described it was, in fact, the truth of the matter.
This then brings me to the truth as we might perceive it. The house can accommodate ten clients. Currently there may be none in Marshall's care. Fayetteville has plenty of women in need of shelter for an abundance of reasons, yet Marshall cannot provide a roof and meal for any? The most acceptable reason for this puzzling mission failure is the absence of money. But that doesn't equate because Marshall has received about $50,000 since her brand new house was completed. So show us the money or show us how those funds were applied to her clearly stated mission.
Look no further than Marshall's real estate investments. She purchased two homes, one in the Summerhill area, and one near the Jubilee House location, for a total of $35,000 to use as "transitional shelters" for female veterans. But hold on here. Is that not the purpose of the Jubilee House — which is empty? Marshall's real estate purchases have all the earmarks of a rental-housing investment. Then consider that buying a house in Summerhill or Gilmore Street requires a loan, and that requires (these days) a careful analysis of the borrower's ability to manage the loan. But Marshall got one heck of a deal. She received a discount, as the VA has explained it. If the discount was such that the houses are free and clear, Marshall got the deal of a lifetime — or was the VA gullible beyond belief?
Then there is the donation of $75 per week required of homeless women. A donation is a voluntary contribution. It is not a requirement — that would be rent. But Marshall expects payment from her clients, if she had any, for shelter and food, which the community, again, was led to believe was offered out of goodness of heart and charity to the less fortunate. So this sets up the question. Is Marshall running a boarding house in the guise of a charity for the homeless, or is she honestly just a good hearted woman who is woefully incompetent? I suspect the former. This situation needs to be addressed and brought back to functioning as intended by overview and guidance of a competent and vitally involved board of directors. That board must obviously not include Marshall's family members.
Current news about that is not reassuring. It is somewhat laughable. Board member Rebekah Sanderlin has reported that all is well with the Jubilee House. But then what else would one expect from the leading board member?
Surely, do not expect objectivity and truth about the matter. Tell us more about the Summerhill house and the Gilmore Street house and their financing, if any. Explain the Jubilee House's lack of clients. And where exactly did the $50,000 go? I wonder if Marshall is as uninformed as she claims about the state's requirement for a license to solicit funds as a non-profit charity — or was she trying to fly under the radar in that regard?
Fayetteville leadership has so often failed to adequately investigate situations before jumping in with both feet. The Jubilee House is a case in point. Perhaps the same city staffer that gave the mayor the go ahead on the Moorish-American declaration recommended city endorsement of Jubilee House and Barbara Marshall. Jubilee House will not become a tremendous disappointment to the many who devoted time effort and money to the understood cause if accountability and complete transparency guide the project's future.
Photo: The Jubilee House, a 7,200-square-foot home intended for homeless veterans is empty.