Pews to Polls? Not on Sunday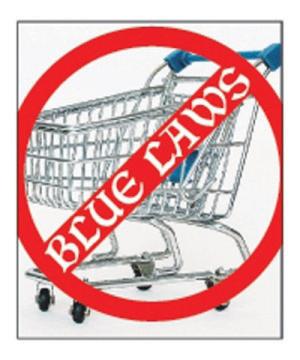 Voting on Sunday? You've got to be kidding me! I can't wait to see the position our North Carolina Legislature takes on this issue. Wow!
Hatching ideas like this it's no wonder Cumberland County gets little respect from our peers in Raleigh. After all, with voter turnout during local, state and national elections reaching all –time highs in new lows, the notion that residents in Fayetteville and Cumberland County need an extra day or two to get to the polls defies logic.Despite ardent declarations and assurances from some community leaders, like NAACP President Jimmy Buxton, that this request is not just a cheap political maneuver, reeks of the contrary.
No intelligent, responsible citizen is buying this "pews-to-polls" initiative does not have political undertones. One would have to be blind not to see how this maneuver would, and could artifi cially manipulate the outcomes of local elections. Even though the Cumberland County Board of Elections voted two to one to approve this recommendation, the notion still defi es basic logic from a practical point of view. Practical –not religious point of view as Republican board member Ralph Reagan suggested.
Reagan was the one dissenting vote. When common sense logic is applied the notion just can't stand up to scrutiny.
Case in point: If you are under 40 years old, you probably do not remember when "blue laws" were in effect and pretty much the law of the land in America – especially here in North Carolina and the South. Believe it or not there was a time when the Sabbath was recognized and respected as a holy day. God's day. A day of rest. It was a time when churches were opened on Sunday and businesses were closed. Americans could choose to take a "time out" from their jobs and everyday routines and worship with family and friends. Ahhh, the good ole days!
Now, fast forward to present day when blue laws have pretty much disappeared across the American landscape, with the exception of government offices and Chick-fil-A. I see little evidence of America returning to the days when the secular population yields and respects the holy day.
My point is this: The reason blue laws became extinct is because the people, by their actions, demonstrated that they wanted to have the option to work, shop and do what they wanted to do on Sunday. This being said, there has been absolutely no demonstration by residents for the need to vote on Sunday – only from political activists. More importantly, and most disturbing, is the fact that this proposed option would be fiscally irresponsible, costing Cumberland County taxpayers tens of thousands of dollars.
With Cumberland County in a recession and unemployment at more than 9 percent, reckless spending of taxpayer's money on a whim of convenience is totally irresponsible. I'm convinced Sunday voting would be a waste of time and money. Below, I have listed comments solicited from local community residents on the topic. You be the judge.
• Current voting times are fair and equal for all citizens.
• Early voting times are fair and equal for all citizens. Everyone has a fair and equal opportunity to vote.
• Sunday voting would prove to be designed and utilized by only a small segment of our community.
• Sunday voting intrudes on and disrespects the rights of Cumberland County employees and election officials.
• There is no documented need for Sunday voting except from self-serving political activists.
• Asking Cumberland County employees, who are paid to serve all Cumberland County residents, to give up their private time and work for the convenience of a few is irresponsible and discriminatory.
• Opening the Board of Election offi ces on Sunday will be expensive, costing Cumberland County taxpayers tens of thousands of dollars needlessly.
There you have it. Again, you can be the judge. However, if Cumberland County officials endorse Sunday voting it will show a conspicuous hypocrisy toward fiscal responsibility. Leadership? That's always been a problem here. We'll see.
In the meantime, thanks for reading Up & Coming Weekly and don't forget to VOTE for Best of Fayetteville. Now online.