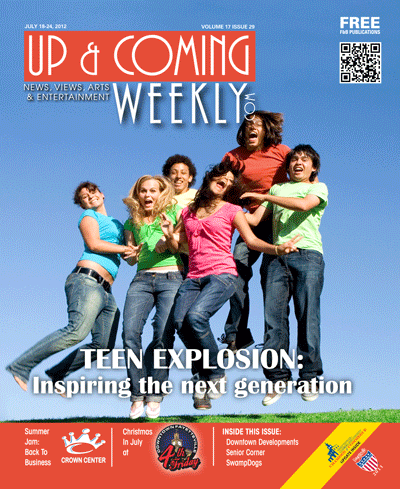 Success. It is what parents want for their children. As a society it is what the nation desperately needs from the next generation. Getting them there is the challenge, and Dr. Teresa Pinckney is facing it head on, just like she has for almost two decades. On July 27, The Mind Over Matter Youth Development Institute hosts the Back-to-School Teen Explosion conference. It's an end-of-summer event designed not only to empower and to motivate, but also to inspire teens to succeed in the coming school year.
The conference provides critical skills needed for academic success and is supported by local businesses, community agencies and colleges. The Back-to-School Teen Explosion Conferences aims to bridge the gap between youth and local businesses. When students understand the relationship between education and success, everyone wins. Students perform well and businesses have a competent and motivated workforce.
Pinckney specializes in youth program development: transition to high school, leadership, volunteer coordination, outreach, non-profit capacity building staff training and development. "I've always been actively involved in the community," said Pinckney. "The greatest joy for me is seeing students that I have worked with in the past and them telling me what they are doing to be productive citizens."
Empowering teens to think big and realize their potential as successful young adults is a win-win for the students and the organizations that take time to come out and support them. This event provides youth with the opportunity to meet local businesses owners and local college representatives. It's not only informational it is a way to show young people that they can achieve their dreams.
"One thing I tell the kids is that knowledge is power. If you know something no one can take that away," said Pinckney. "I teach them that persistence is important. I want to inspire them to do the best they can do in life."
Students who attend the conference will learn skills that will help prepare them for the rigors of the school year, understand the relationship between education and work-force development, learn about potential career opportunities, complete a career assessment, learn about what to expect from life after high school. While the topics are serious, the day promises to be fun and engaging. Attendees will participate in thought-provoking discussions and interactive workshops. Local business leaders will be on hand to share their insights and experiences regarding the value of education in the workplace. Information and exhibits will be available providing the latest information to prepare teens for entering the workforce and preparing for college.
Scheduled breakout sessions during the event include:
• "My Character Prepares Me for Employability Skills": Creative presentation of character education and workforce skills needed for after-school/summer employment and internships
• "Why Do I have to Learn this Stuff?" School Success for the 2012-2013 school year
• "Life Beyond High School": College and Beyond, preparing for college with a 10-year plan
• "Show me the Money": Financial Literacy and the importance of managing finances
• "I am Overcome by Anxiety!" Strategies on how to prepare for the SAT & ACT College Entrance Exams
• "Habits of Mind": Interactive activities designed to utilize critical thinking skills needed for school success
• "STEM Factory": Interactive activities related to Science, Technology, Engineering and Math
There are some great resources for students to take home with them, too. Everyone will take a learning-style inventory, which is great for helping students understand the ways they earn and how to use this information to their greatest advantage. A career assessment is provided to help attendees get an idea of what job will likely be a good fit for their personality and interests. A job skills readiness manual is also included for each student. The manual, combined with the insights and advice from local businesses gives a clear picture of what employers are looking for in today's work place. Conference attendees will also receive a 2012-2013 student planner, a T-shirt, a Teen X Success Kit and a quarterly newsletter throughout the year.
As an advocate for youth, Dr. Pinckney has spent the past 25 years working with kids through programs like the Girls Scouts, various school systems, The Junior League, United Way and Partnership for Children to name a few. Her work with youth lead Pinckney to start The Mind Over Matter Youth Development Institute as a Division of T. Pinckney & Associates. The institute serves education, nonprofit and government agencies that serve youth. The organization is committed to supporting high standards in education and agencies that provide educational services.
She's helped her fair share of young people in her time, and has no intention of stopping anytime soon. "I've gotten 1,000 kids into college," said Pinckney. "I think it's important to empower students. It's about opportunity … having the knowledge and being prepared."
The program runs from 8 a.m. to 2 p.m. and includes a continental breakfast as well as lunch. Individual registration is $35 with a $5 military discount; multiple-family registration is $35 for the first child and a $10 discount for each additional child. Group registration is $20 per student with a minimum group size of eight. Call 322-6198 or visit www.mymindovermatter.com to register or find out more information.
Photo: Top right- Dr. Teresa Pinckney, a long-time advocate for youth, has a great day planned for Teen Explosion.; bottom left - Youth today face some serious challenges on the path to success. Teen Explosion helps equip them for the future.