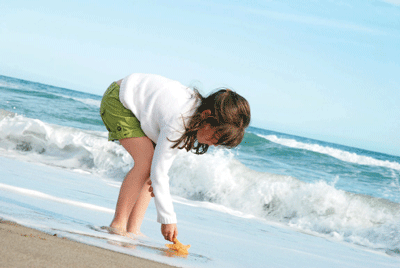 A young girl was walking along a beach upon which thousands of starfi sh had washed up during a terrible storm. When she came to each starfish, she would pick it up, and throw it back into the ocean. People watched with amusement.
After some time a man approached and said, "Little girl, you can't save all these starfish. You can't begin to make a difference!"
The girl seemed crushed. But then she bent down, picked up another starfish, and hurled it far into the ocean. Then she looked up at the man and replied, "Well, I made a difference to that one!"
Inspired, the old man joined the little girl in throwing starfish back into the sea. Soon others joined, and the starfish were saved.
— adapted from the Star Thrower by Loren C. Eiseley
At the Cape Fear Valley Health Foundation, each of us sees ourselves, as that little girl. Each of us has become a star thrower for cancer patients, cardiac-care patients, preemie babies, those family members far from home, those struggling to rehab and regain their sense of independence and even those bereaved and left to pick up the pieces of shattered lives. Each finds inspiration in their stories. Some find their motivation in cancer survivors like Brad Lose. Others may model themselves after Lonnie Player, former foundation chair, who today still continues cardiac rehabilitation 16 years after his third heart attack and subsequent quintuple bypass.
Some may follow the lead of little Laura Bullard who sacrificed her birthday gifts in order to donate them in the form of stacks and stacks of children's books to brighten the days for kids hospitalized at Cape Fear Valley.
Then there are the heart-warming stories like the Coopers' preemie twins, nursed tenderly for months until they could finally come home. One local real-estate association collected teddy bears. A bowling league and a highschool volleyball team both gathered dollars and cents and pledges for those suffering with cancer and heart disease. The effort, the star throwing, goes on in both big and little ways.
All these foundation efforts and dollars cared for friends and families right here in Cumberland County. Each rescued starfi sh in his or her own way, in giving to the Cape Fear Valley Health Foundation.
Why give to the Cape Fear Valley Health Foundation? For Lonnie Player, it was more than the expert cardiologists that performed the delicate bypass surgery. The foundation supported his cardiac rehabilitation, the nutritional plans and the careful, but vital exercise regimen he received. He follows those routines even today, more than 16 years later. According to Player, these donors and volunteers "provide things that are not traditionally provided for by a medical center, that make a difference, that give our patients the fi nest medical care that we can offer."
As a prime example, foundation gifts helped fund innovative new EKG equipment for its ambulances that provide dramatically faster cardiac emergency diagnosis and response. Now Cape Fear Valley cardiologists can monitor heart attack and stroke patients, in real time, while they are transported to the hospital. That lets our physicians treat blockages in as little as 12 minutes, once they reach the emergency department. Most hospitals struggle to provide similar treatment in about 60 minutes.
Similarly, the foundation was able to fund unique Giraffe beds for neonatal intensive care patients. Premature infants respond as though the bed is an artificial womb, keeping the baby at proper moisture levels, warm and cozy. Laurin and Beverly Cooper had their twins at just 23 weeks; the Giraffe beds cradled and comforted them for months. Says Laurin, "I honestly believe that without [the giraffe beds], I don't think our boys would have made it."
Just as important, are the little things these volunteers do. Brad Lose and his mother, both cancer survivors, point to the wonderful things the staff and volunteers do at the cancer center. It's a "magical place," says Brad. "They are the most amazing people and the work they do is unbelievable." Their efforts cover the costs of hairpieces for those undergoing chemotherapy. Transportation to and from appointments. Free or subsidized extended stay at the Stanton Hospitality House, for out-of-town families that can't afford it. Foundation donations even provide for a burial fund for infants when parents, already wracked with grief, don't have money for a proper burial. Foundation volunteers are star throwers who take pressure off, who understand how little things can make it easier for patients and family, who are genuinely happy to see you, who have their own stories of pain, fear and anxiety, and yet give of themselves to donate their time and money to help patients and families here in Cumberland County.
Despite all that the foundation staff, survivors, volunteers and donors do to comfort patients and families, there always remains more to do. That's because hospitals like Cape Fear Valley Health continue to have their budgets stretched in ways that might otherwise compromise care. Unfortunately, we can't all be in the operating suite or direct radiation therapy or unblock a clogged artery. Together, however, we can put all our efforts, big and small, to work for our neighbors, friends and family who find themselves needing the services of Cape Fear Valley Health. There are still starfi sh to rescue. They need star throwers like you.
Photo: Individuals can make a difference.