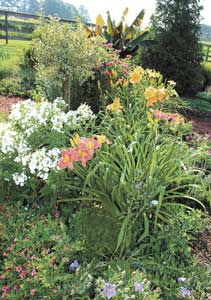 When the afterglow of spring is long gone, daylilies spread rainbows of color through the summer garden. From late spring to frost they are the stars, but they are not temperamental stars. They are hardworking, strong-growing contributors and the easiest to grow of all decorative perennials for Sandhills gardens.
One of the best ways to get to know daylilies is to visit the local American Hemerocallis Society accredited show. The event will be Saturday, June 3, on the top floor of Berns Student Center at Methodist University.
Since daylilies come in just about every color except true blue and in heights from a foot tall to over five feet tall, a gardener can find a cultivar for any place in the garden that gets five to six hours of sunlight.
They thrive in hot summers, so they are a good choice for our Sandhills landscapes. They tolerate some drought but fare better and produce more blooms if they get at least an inch of water a week.
Most daylily flowers are round with fairly wide petals. There are also spidery flowers with narrow petals and sepals; unusual forms with petals and/or sepals that twist, fold, or curl; and doubles that can look somewhat like a peony or like one flower sitting inside another one.
Flower sizes range from just over an inch to over 15 inches for some of the spiders. There are more than 80,000 registered daylilies in an incredible array of color, form and size — something for every niche in the garden.
For best performance of your daylilies, prepare a bed with good soil that has organic material incorporated for good drainage. A soil test can give guidance about what type of fertilizer to use and how to amend the soil for proper pH and nutrients.
Daylilies are usually sold bare-root with leaves cut back to reduce transpiration, or loss of water vapor. A good way to plant is to soak the roots (daylilies don't have bulbs) for a few hours and then put the plants in the ground in the late afternoon. Do not soak for more than a day.
Dig a hole, mound the dirt up in the center of the hole and place the plant so that the crown (where root and leaves meet) is no more than an inch below the soil with the roots reaching down into the soil. Fill the hole with the soil you dug out. Water the plants well and cover the soil with about two inches of mulch or compost. This will give the plant several hours to acclimate before the heat of the next day.
To learn more about daylilies, join a local club and the American Hemerocallis Society. Visit local growers to see plants that grow well in your area.
Sandhills Daylily Club meets on the fourth Thursday of the month from February through October. The usual meeting place is Friendship Baptist Church, 3232 Davis St., Hope Mills; but we do occasionally meet at other venues. We start at 6 p.m. with a potluck meal and the speaker starts about 7 p.m. Visitors are welcome.
To enter flowers in the June 3 show and win awards, the flowers must be on the registration table by 10 a.m. The show will be open to the public from 2 until 4 p.m. Starting at 10 a.m. there will be short presentations on topics like hybridizing daylilies, planting and care of daylilies, herbal recipes, air layering, and companion plants. Plants for sale will be available at 12:00 p.m. To learn more about daylilies, visit www.daylilies.org.