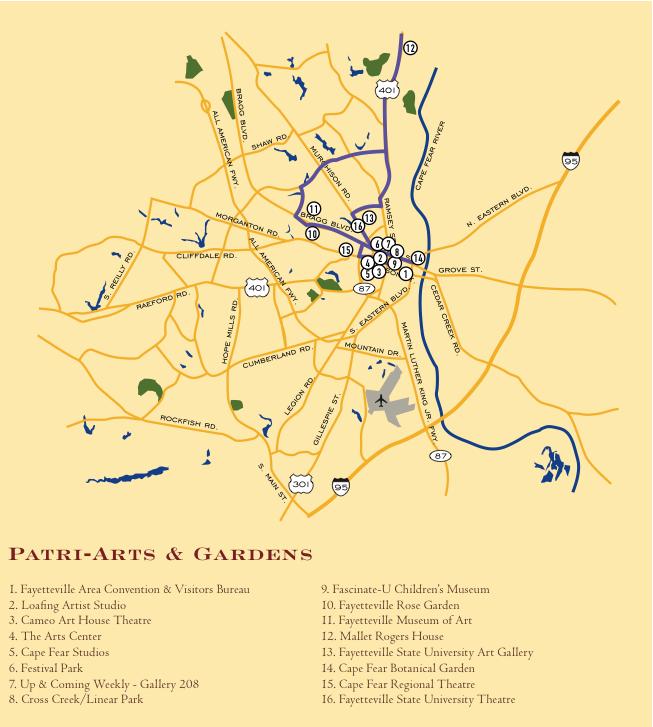 "What do you want to do today?"
"I don't know. What do you want to do?"
We've all been there. When that restless feeling hits and you don't necessarily feel like getting dressed up to go out to eat and the mall and a movie just don't sound that appealing. What to do? What to do? Here is a suggestion. Go to www.visitfayettevillenc.com and click on Drive the Trails of Fayetteville.
There are more than 750 miles of themed driving trails in Cumberland County and they cover pretty much every angle of the area's history as well as other topics of interest. Simply choose your trail and a ready made itinerary pops us along with a map of all the stops. Download the map and there is a synopsis of the trail and info about each stop so you can get a feel for what is in store before pulling out of the driveway. There is also an estimate of the time it will take to complete the tour so be sure to allot enough time for the adventure. If there isn't anything that strikes your fancy in the pre-planned driving tours, take a short survey and blaze your own trail through the Fayetteville area. Print out the itinerary and let the fun begin.
Although these mini adventures are billed as driving trails, many of them have stops that are well worth the time and effort it takes to explore them. The Gaelic Beginnings Trail, for example takes visitors to Cross Creek Cemetery where many of Fayetteville's earliest settler's have been laid to rest. Renowned stonemason George Lauder carved a significant number of head stones here. It is in large part thanks to Lauder's works that this Fayetteville landmark is listed on the National Register of Historic Places. Each of his headstones is considered an historic treasure.
"There are few cemeteries listed on the National Register," said Fayetteville Historic Properties Manager, Bruce Dawes. "These are works of art and carved by hand. They really tell a story."
Old Bluff Church and Cemetery in Wade is one of the oldest Presbyterian churches in Cumberland County. Visit the grave of David "Carbine" Williams at this stop. While in prison, this Godwin native invented the short-stroke piston and the floating chamber principles which were used in making the M-1 Carbine.
Early congregants of Old Bluff used to ride rafts from the other side of the river and climb the bluff by holding on to tree roots to attend services, according to church member Mac Williams. Stairs were eventually installed in the mid 1900s, but one peek at the slope inspires admiration for the dedication of the faithful of times past. The church was not heated until the 1920s and attendees were left to their own devices when it came to keeping warm.
"They'd sometimes carry heated bricks wrapped in a blanket to church to keep warm," said Williams.
Along with many other churches and cemeteries, this tour includes the Museum of the Cape Fear Historical Complex. The exhibits here cover four centuries of North Carolina history. There are often other traveling displays there as well that make this a fabulous place to spend some extra time.
Gillis Hill Farms could be an adventure in itself. For eight generations the Gillis family has been working thousands of acres in Hoke and Cumberland Counties. They started in timber and turpentine and then moved on to farming, which they still do. Although, in more recent years they've added agri-tourism to their farm.
"There are so many people here now and the town has grown up so much," said family spokesman Andrew Gillis. "We wanted people to be aware of the history here."
For $2 take a self guided walking tour of life on the farm centuries ago. Along with all the animals, and just a lovely serene setting, you can check out the tobacco barn, and the old saw mill which is partially steam powered and still in use today. Gillis is working to rebuild the grist mill, which he hopes to have in working order by the end of the summer, complete with a working water wheel. The 1911 era cotton gin is in disrepair right now, but Gillis plans to make that a part of the tour in the near future too. At the end of the walking tour don't miss the chance to have some homemade ice cream in the old family homestead.
These are just a few stops on one of the 15 available trails. Sure a few of the sites are on more than one trail, but you get a different perspective every time and the over lap is minimal.
There is so much to see and do out there, and the leg work has already been done: choose from the list below and go have a blast. Check back again soon for new trails that are currently in the making. That's www.visitfayettevillenc.com
• North Carolina Birding Trail
• North Carolina Civil War Trail
• North Carolina Coastal Plain Paddle Trails
• Homegrown Handmade–Art Roads & Farm Trails
• Cross Creek Linear Trail
• Literary Trails of the North Carolina Mountains
• North Carolina Cultural Trails
• Cherokee Heritage Trail
• North Carolina African American Culture Tour