Best of Fayetteville: Make Your Vote Count
Nothing speaks louder and with more authority than an unsolicited recommendation that your business or organization has been celebrated locally as the best-of-the-best.
That's right, The Best of Fayetteville is back. For the 16th year in a row, Up & Coming Weekly will carry on this Fayetteville tradition — and you and the residents of Fayetteville and Cumberland County will again play an integral role in the process. In this edition, you will find the 2013 Best of Fayetteville ballot with more than 130 categories of businesses, services, organizations and quality-of-life venues that define our community.
Don't worry, you don't need to pass judgment on all 130 categories. Comment on as many as you like. It takes only 15 to qualify and validate the ballot. Your submission enters you into a drawing for a chance to win $100. In addition, to accommodate our thousands of online subscribers, the ballot is available electronically at www.upandcomingweekly.com.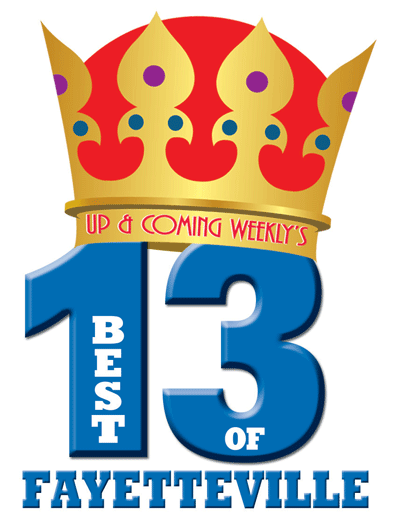 Being recognized in the Best of Fayetteville has many tangible, valuable and long-lasting rewards for its winners. That's what makes this annual reader's poll so special.
First, the winners are profiled and showcased in a special Best of Fayetteville edition of Up & Coming Weekly. This special edition is then provided free of charge to residents and area newcomers all year long. It is also posted online for the entire year with each winner hyperlinked directly back to its own website. Winners also receive a 2013 Best of Fayetteville window decal and a beautiful plaque presented at our famous (some would say infamous) Best of Fayetteville party. The party, planned for Sept. 17 at Fayetteville's newest downtown restaurant and sports bar The TapHouse at Huske, gives us a chance to publicly recognize the businesses and people who make our community so great!
The Best of Fayetteville party will be hosted by Josh and Tonya Collins, Beasley Broadcasting, The Trophy House, Brainbox Inc., Utley & Knowles CPAs and the Fayetteville Regional Chamber of Commerce. Oh, and of course, the staff of Up & Coming Weekly.
Sound like fun? It all starts with your vote.
So, mark your calendars for our 16th Annual Best of Fayetteville celebration Sept. 17, at The TapHouse at Huske where music, fun, food, prizes and surprises come together to celebrate the best-of-the-best. Thank you, for reading Up & Coming Weekly.