The Name Game
My chum since childhood, exercise buddy, travel companion and proofreader extraordinaire long since threatened to withhold her excellent editing services if I wrote yet another Up & Coming Weekly column on either of these topics:
• Tattoos, why people get them and whether they regret their choice to get inked.
• The names parents hang on their beloved babies.
Because I value her friendship, not to mention her focused editing skills, I have pretty much sworn off these topics although I remain fascinated by them myself. So imagine my surprise when, as we sat on our exercise mats at 6:30 one recent morning, she suggested a column on names.
Hurricane names, that is.As I write this, Tropical Storm Chantal has just fizzled out in the Caribbean, thank goodness, even though early projections had the storm posing a threat to the eastern seaboard of the United States.
Chantal?
I do not know anyone named Chantal, so I checked it out with the U.S. Social Security Administration, which maintains a handy and addictive website detailing the most popular baby names for boys and girls born in the United States since the late 19th century. Here you can find that the most popular names in 1900 were John and Mary. In the year I was born, Margaret came in at an impressive 14th, but James and Linda took the top spots. Last year, Jacob and Sophia were the most popular names with parents of American newborns, although we in North Carolina prefer William and Emma. Who knew?
But back to Chantal.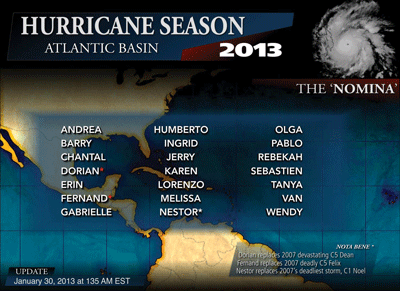 Chantal had a bit of a run several decades ago. The Social Security Administration keeps track of the top 1,000 most popular names, and Chantal first appeared in 1968 at 955. It shows up most years in the 1980s and '90s, reaching a robust 581 in both 1987 and 1989 before declining to 922 in 1999 and has not been heard from since.
So what other names has the National Weather Service dreamed up for the 2013 hurricane season in the Atlantic?
First a word about process.
The National Weather Service uses names because they are much more practical than actual latitude-longitude designations, and names make it easier to distinguish among several storms which might be churning around at the same time during a busy hurricane season. The names themselves are selected by regional committees of the World Meteorological Organization, which has a six-year list of storm names that will be repeated indefinitely. The only exceptions are names of dreadful storms that no one wants to hear again — think Hazel, Andrew, Fran, Floyd and Katrina and you get the picture. Originally, like ship names, hurricane names were all feminine, but in 1979 men's names were also adopted, alternating with the women.
So who is on tap for 2013?
Andrea, Barry, and Chantal are already history, and we have Dorian, Erin, Fernand, Gabrielle, Humberto, Ingrid, Jerry, Karen, Lorenzo, Melissa, Nestor, Olga, Pablo, Rebekah, Sebastian, Tanya, Van and Wendy to look forward to.
And how do these names stack up with what parents are blessing their precious jewels with in 2013?
Parents and hurricane namers apparently have very different tastes. None of the 2013 hurricane names are anywhere near the parental top ten, or even the parental top 100. Some never even made the top 1,000 list. Since 2000, only four of this year's hurricane names — Erin, Gabrielle, Melissa and Sebastian — have made the parents' top 100. Several others, including Dorian, Humberto and Ingrid, made it into the parents' top 1,000, while Fernand and Olga flamed out completely.
We have lots of time and plenty of waves to ride before hurricane season officially ends on Nov. 30. We all hope, of course, for fewer, smaller and weaker storms, even though the National Oceanic and Atmospheric Administration is predicting an active season in the Atlantic with as many as 20 named storms, three to six of which could be major hurricanes — categories 3, 4 or 5.
Keep your fingers crossed that the NOAA is way off on that prediction!
No matter what their size, what happens if there are so many storms we run out of names for 2013?
The National Hurricane Center has thought of that, too, and has a plan. If Wendy comes and goes and we still need more names, we will look to the Greek alphabet and proceed with Alpha, Beta, Gamma, Delta and so on.
Not to worry. I have no plans to write about tats next week and what they will look like when the wearer is 80 — even though I am always tempted …
Photo: Hurricane names are selected by regional committees of the World Meteorological Organization.