Send a Message: City Hall Is Not for Sale!
Finally, the filing period is over and the 2013 municipal campaigns are in full swing. Thanks to all that have committed to serve our great community. Candidates — On your Mark, Get Set, Fundraise! All of the talking heads and Op-Eds have declared, if you don't raise the most money, you won't win.
It's one of the oldest political tricks of persuasion and "psychological operations" in the book. The premise is that if you hear a message time and time again, you start to believe it. Well, I'm not buying it and I don't believe you will either. Recent campaigns have proven that hard-working, well-organized candidates are more than capable of winning elections.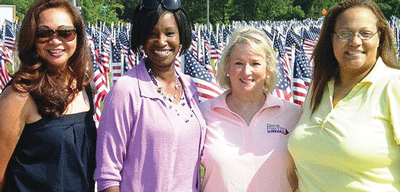 Unless a candidate has the means to finance their own campaign, some level of fundraising comes with the territory. Instead of spending time developing their message and speaking with citizens, many candidates will spend a great deal of effort scrutinizing campaign donor lists and dialing for dollars. Asking for contributions from friends and family, school mates from kindergarten through college, people they've served with in the military, fraternities and sororities and checking for coins in the couch is the reality for most candidates willing to serve our community via public office.
Fundraising often discourages unconnected but well-intentioned and exceptionally well qualifed ordinary citizens from seeking public offce. It is a big reason why many good people choose not to seek reelection. This environment undermines the integrity of the governmental process and the competitiveness of campaigns. The amount of money raised by many candidates and committees can erode public confidence in local offcials by creating the appearance they may be unduly influenced by contributors.
In Union City California, self-described as a small diverse community of 69,000 people, individual contributions cannot exceed $600. The Union City's Municipal Code Chapter 2.06.010 Campaign Contributions reads:
"It is the purpose and intent of the City Council in enacting this chapter to minimize the potential for undue infuence by individual or groups on the Mayor and Council members by placing realistic limits on the amount of money that individuals or groups may contribute to political campaigns in municipal elections while providing for a level of discussion of public issues adequate for a meaningful election campaign; to insure and promote integrity, honesty and fairness in decisions of public policy; to provide for a campaign contribution and expenditure reporting process that will inform the public; to enhance the opportunity for challengers to be competitive with incumbents."
Before you dismiss Union City as an exception, there are many cities (including Los Angeles) that have and are developing similar policy. This movement isn't primarily about campaign finance laws, it is about allowing our political process to be accessible to everyone, no matter your social circles or level of affluence. Municipalities are increasingly interested in ensuring the voices and choices of everyday citizens are not silenced by well-financed political machines.
Citizens — if there is a candidate that you support, make a financial contribution. Recognizing we are a community with 9 percent unemployment with many that are impacted by sequestration, you may not be able to write a check for a few thousand dollars. However, $25, $50 or $100 may be a possibility and would be appreciated by your candidate. However, the real equalizer to this fundraising conundrum is free — it is the power of the vote.
Many are hedging their bets that since this isn't a presidential election, certain blocks of voters will not come out to the polls. I'm betting they are wrong. I believe our citizens can and will send a very powerful message: Fayetteville's City Hall is not for sale.
Candidates, let's have great dialog about jobs, safety, families and supporting our military — real vision and real solutions for our city. Invest in a good pair of sneakers, drink lots of water and I'll see you on the campaign trail. Thank you for your willingness to serve and good luck!
Our Future, Our Community, Our Fayetteville.
Photo: Val Applewhite with some of her supporters.