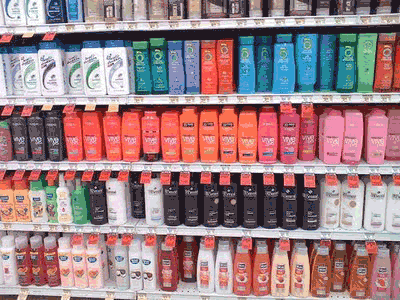 A smart, but frustrated, chum rang up recently with an unusual complaint that resonated with me. We Americans simply have too many choices. We have so many choices, she suggests, that choosing among our myriad options has become actual work.

All of us research our major purchases. No one ever buys a car without researching it in some way. We do not go to a car dealership and say, for example, "I want to buy a blue car." Even writing that sounds absurd, much less doing it. Instead we decide what sort of vehicle we want - sedan, station wagon (moi!), SUV, pick-up truck - how much we want to spend on whatever we have chosen and perhaps what brand we prefer. We read and talk to other people. Then we go out to find the vehicle we want and haggle with the sales staff until we cut a deal.

Not so with lesser consumer items. Take shampoo. Have you cruised what is generally called the "Hair Care" aisle lately? It is smorgasbord of colors and sizes, products for normal hair, oily hair, damaged hair, colored hair, aging hair, thinning hair, curly hair and on and on. Products at eye level - how they got that cherished spot is anyone's guess - may sell more because they are the obvious and easy grab, but if you actually look around, confusion reigns. How can a shopper know what is the right product for his/her young or old, curly or straight, dry or oily, flowing or skimpy tresses? If you survive the great shampoo hunt, you may feel the need for a hair conditioner. And about a styling product? Gel or spray? Mousse, perhaps? Do you go for the same brand in all these products or do you mix and match? If so, how do you choose which shampoo goes with which conditioner, much less which styling goo?

You are getting the idea. The whole thing is a lot of work not because hair products are unique in and of themselves, but because there are so darn many of them.

Ditto for face cream, hand cream, toothpaste, shaving cream and just about every other "personal care" item you can imagine. We are drowning in choices.

And, my friend insisted, do not even get her started on wine options! In the olden days before Americans took up wine quaffing with an enthusiasm unmatched even in Europe, most of us thought we had two choices - red or white, and the occasional pink one, which, if we were feeling sophisticated, we referred to as a rosé.

My, how times have changed! My neighborhood grocery has an entire wine section, bigger even than the beer display, which must be a shock for some of the good-old-boys. There are chardonnays from California and France, champagnes from France, proseccos from Italy, malbecs from Argentina and Chile, merlots, pinot grigios, pinot noirs, sauvignon blancs, cabernet sauvingnons, bordeauxs - all from many different regions of the world, along with traditional chiantis and chabillis. It is all a bit much for a shopper who simply wants to find a wine to serve dinner guests Saturday night. He or she is going to have to work hard to avoid making an embarrassing vino faux pas.

The choice problem is certainly not a problem on the scale of, say, world peace, but it is frustrating and confusing. I know that specialty stores maintain knowledgeable staffs who can help us decide what suits our needs and our pocketbooks, and they can indeed be instructive. The cold hard reality for many shoppers, though, is that many of us are busy, doing all this on the fly as we juggle our other responsibilities and obligations. Devoting significant chunks of time to what our hair may be hankering for or finding the perfect after-dinner sherry just is not in the cards for most of us on a regular basis.

So what are we to do? For personal care items, wines and lots of other things, this consumer takes to the Internet to read reviews posted by other people who have tried whatever it might be. This is not a foolproof system, as we all have different needs and different tastes. I find the practice helpful, though, as fellow consumers can be brutally honest as in "this blouse is made of really cheap fabric and makes you look fat." or "this cream smells like motor oil," realities advertising faithfully overlooks.

Happy shopping!