What I Learned at RENT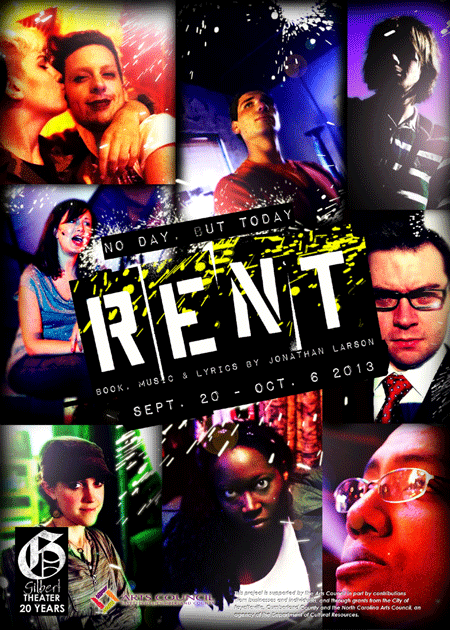 I ran into Lynn Pryor, actor, director and founder of the Gilbert Theatre, this past weekend at Sharon Valentine's garden party prior to Methodist University's weekend football game. He was happy, excited and smiling ear-to-ear, talking vigorously about the success of the Gilbert Theater's first production of it's new season — RENT.
You see, it was closing on Sunday and he knew that there would be only two more opportunities (Saturday night and Sunday) for his friends to experience it. Well, my wife and I saw the production the day before, so we knew exactly where his pride, excitement and sense of urgency was coming from. And, rightfully so.
The production was simply awesome and Pryor had every right to be proud. The show's director Ruth Crews and the entire cast and crew need to be congratulated. "They did it!"
Honestly, had I seen the show when it first opened on Sept. 20, you would have been reading this article last week. I will not make that mistake again.
Here's why: When Gilbert's Artistic Director Robyne Parrish announced its season opener was going to be the legendary musical RENT, eyebrows were raised. RENT was one of the longest running shows on Broadway opening in the mid-90's and closing in 2008 after a successful 12-year run. It's music and lyrics (by Jonathan Larson) are beautifully difficult and the story line sensitive, tragic and controversial for the times. Alternative lifestyles, HIV and AIDS, perhaps not so much today.
RENT is a warm and compelling story of young, struggling artists and musicians trying to survive in New York City's Lower East Side. Expert local acting with great music (Leeann Valcarcel is the music director) and dance movements incorporated pop, salsa, rock'n roll and R&B. Simply magnificent!
The Gilbert Theatre is one of Fayetteville's unique treasures. If you haven't experienced it, I recommend that you do.
One other thought I want to share with you this week. I've called Fayetteville home for more than 40 years and when watching RENT I realized that I know a lot of people but I did not know or recognize any of the young and talented cast members.
Also, seated in the house that night were more than 100 people appreciating local theatre and local culture at it's very best and I didn't know hardly anyone in the room. My point? Fayetteville is changing.
The faces in Fayetteville are changing. New people are here. The community is evolving. New people, new ideas, new cultures are all coming together to create a new Fayetteville dynamic. We need to get ready for it. Better yet, we need to be a part of it. We need to encourage these young people to get involved and become part of it. The timing is perfect.
Now that Fayetteville's Primary Elections are over, we know who the candidates are and what issues and challenges lie before us. We must get involved, study the issues, ask the tough questions and demand responses and action that will steer this community in the direction that will assure future generations the same quality of life we enjoy today.
There are new voices in our city. I hope we will hear them. In the meantime, I am going to do a better job getting to know these folks. I can think of "Five-hundred twenty-five thousand/six-hundred" reasons to do this.
Thank you for reading Up & Coming Weekly.